You've probably heard of ecotourism, but it's a pretty new term which is sometimes called 'green tourism' or 'responsible tourism'. Ecotourism is becoming more popular in Indochina travel as tourists become more mindful of minimizing their impact on the beautiful lands they travel through. With 30 national parks, 69 natural reserves, 45 landscape protection sites, and 54 cultural groups, Vietnam has incredible potential as one of the world's best ecotourism experiences.
Best Ecotourism Experiences in Northern Vietnam
Boat trip along Ngo Dong River in Ninh Binh
Literally meaning "three caves", travelers visiting Tam Coc – Bich Dong will be amazed by the Hang Ca, Hang Hai, and Hang Ba caves that are situated on Ngo Dong River in Northern Ninh Binh Province. Bich Dong refers to a beautiful pagoda complex built in the fifteenth century. This UNESCO World Heritage Site will take your breath away with its limestone mountains, lazy rivers, serene rice fields, and bright blue skies. The gorgeous natural beauty makes this complex a top destination for ecotourism experiences in Vietnam. There is a wide range of day trips that include a visit to the ancient Hoa Lu Citadel and a boat ride along the Ngo Dong River. The price hovers at $45.00 USD for a day trip from Hanoi.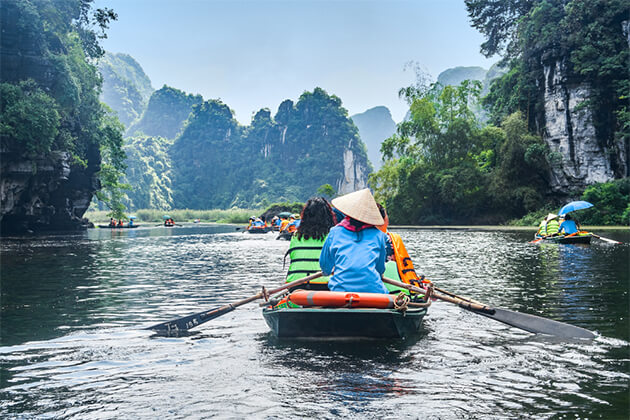 Boating on Ba Be Lake
Nestled among surrounding mountains in Bac Kan Province, Ba Be is the largest lake in Vietnam. The most interesting activity is boarding boat tours that will take you out into the smooth waters. Here you can watch the mist rise off the water in the morning, admire the clean waters in the afternoon, and gaze at a romantic sunset in the evening. This charming destination make for an idyllic scenic trip so let's make sure you bring your camera. Normally, day tours from Hanoi offer an overnight trip from the capital and include transportation, meals, beating, and a local homestay. The price ranges from $206 USD for a solo traveler (or depending on group size).
Exploring Cuc Phuong National Park
Another glorious destination for ecotourism experiences in Vietnam is the Cuc Phuong National Park which lies 120km southwest of Hanoi in Ninh Binh Province. You will like being lost in lush forests with thousand-year-old trees, ancient caves, and small lakes. It is really a wonder to behold. A trip to Cuc Phuong National Park will help you get rid of the modern day worried melting away in no time. Escaping to this protected and pristine park by booking a one day or multi-day jungle trek from Hanoi is a regular choice for travelers.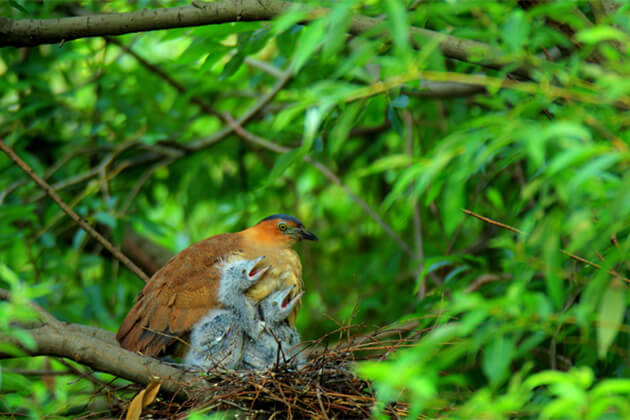 Biking through Mai Chau Town
This enchanting town is perfect for anyone seeking an authentic ecotourism experience in Vietnam. It is a cultural tourist attraction in Hoa Binh Province offers lovely homestays and the opportunity to experience the local culture and cuisine. The path to Mai Chau Valley is relatively steep but attracts those loving adventure travel. The winding roads are seemingly going on an immense sea of clouds among the vast and grandeur of heaven and earth. Looking down from the high pass, Mai Chau Valley appears beautiful thanks to the evergreen of trees, rice fields and the tiny closely stilt-houses. Additionally, traditional music shows are also put on in the evenings by the locals. Definitely, the majestic nature, peaceful landscapes, and enthusiasm of the Thai locals will leave unforgettable impressions in tourist's mind. Mai Chau Valley Retreat is a good Mai Chau accommodation to stay during the trip.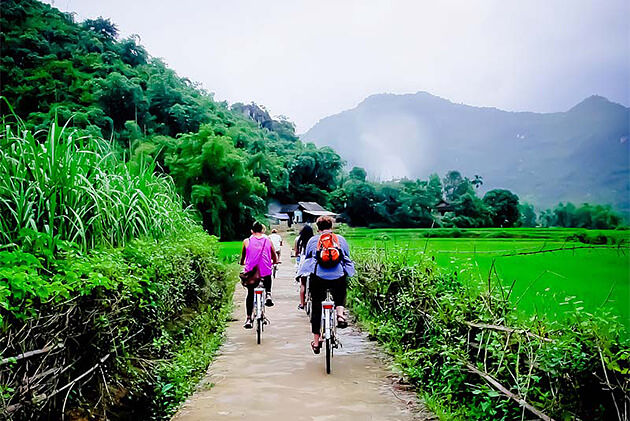 Trekking through Ha Giang
Ha Giang province is located near the border of China and Northern Vietnam. This remote and breathtaking place is ideal for travelers seeking multi-day trekking for ecotourism experiences. Normally, trekking tours through Ha Giang include touring breathtaking rice terraces, limestone karsts, and visits to minority villages. Coming to Ha Giang, you should not miss the chance to view the breathtaking and surreal scenery from Ma Pi Leng Pass. To find a trekking tour to Ha Giang, you can contact Viet Vision Travel, which offers an excellent selection of tour packages, from quick hikes to longer adventures. You should note that the price depends on trip length and group size.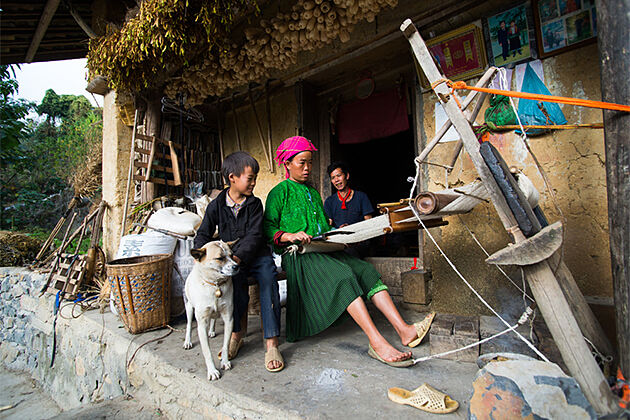 Biking and Trekking Tours in Sa Pa
Favored by nature, Sapa has long been a famous tourist destination in the northwest of Vietnam. Taking a tour to Sapa, you can contemplate a lot of strikingly beautiful landscapes with some famous destinations like Fansipan Mountain, Muong Hoa Valley, O Quy Ho Pass, Ethnic villages,…Likewise, there is a wide range of forests and terraced rice fields that are extremely suitable to hold some fascinating activities in ecotourism. Sapa trekking tours will definitely offer the most authentic experiences and help tourists respectively experience their life and culture. The stunning views and scenery don't hurt either!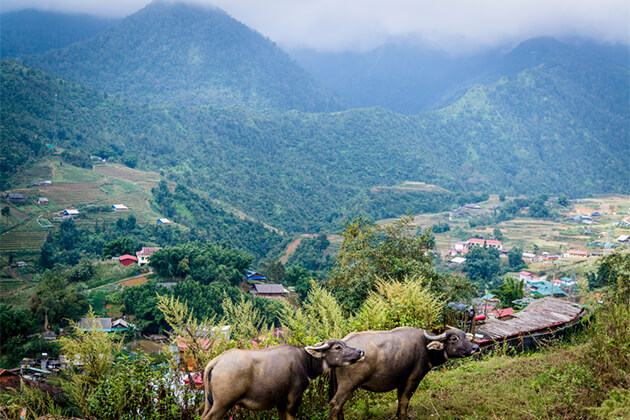 Hiking up Phan Xi Pang
Phan Xi Pang, known as "the Roof of Indochina" for being the tallest mountain in the region at 3,143 meters, is located 9km southwest of Sapa town. Trekking tour to Sapa is not for the faint of hearted as it's a challenging ascent, but the summit views are brilliant. During your trek, you will encounter fields of gorgeous flowers, lush rainforests, and bamboo bushes. You should spend at least 3 days, leaving from Hanoi, and may include a stopover in lovely Sapa. For those aren't keen on climbing, you can buy a $22 USD ticket and ride the cable car to reach the peak.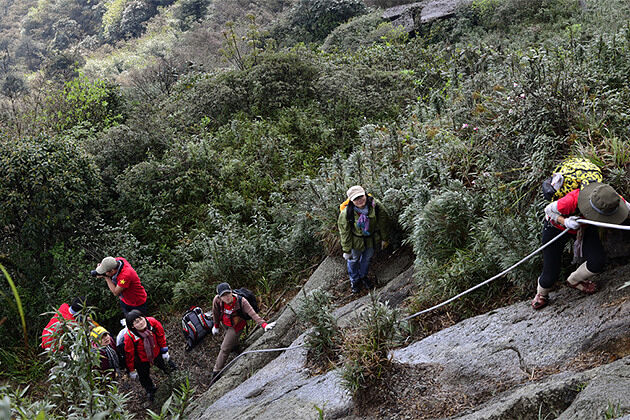 Eco-Adventures in Cao Bang
Cao Bang, a remote province in northern Vietnam, offers more spectacular views of surrounding mountains, waterfalls, rice terraces, and rivers. Recently recognized by UNESCO for its historical significance and geological heritage, Cao Bang Geopark with its fresh air, local culture, and remarkable scenery await the eco-minded travelers.
Best Ecotourism Experiences in Southern Vietnam
Trekking through Cat Tien National Park
This beautiful national park is approximately 150km from Ho Chi Minh City making it attractive weekend gateway from the bustling city. You will see many species of tropical birds, wildlife as well as mas many enormous, ancient trees. Additionally, the humid air perfumed with the scent of over 100 species of orchids growing in the forest will make you feel comfortable and fresh. This national park was named Vietnam's 6th World Biosphere Reserve. If you want to explore the park, you can contact several companies offering tours from Ho Chi Minh City, Balo Adventure travel company for example. Remember that solo trips are spicey so each of you will have to pay at least $200 USD (depending on group size).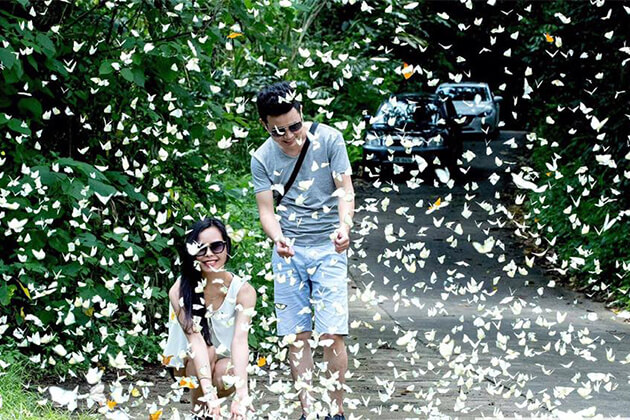 Biking Tours in Mekong Delta
These multiday tours begin in the southern city of Saigon, a bustling metropolis with a population of nearly nine million citizens. Seeing the city fade in the distance as you pedal into the glorious natural surroundings is an amazing ecotourism experience itself! It's perfect when you cycle through fields of sugar cane, banana plantations, narrow country lanes, and across water channels. This is the amazing gateway from the big city for anyone with an affinity for traveling several days on a bike.