After touring wonderful Vietnam and stunning Laos and then heading to Cambodia in an Indochina tour package, that is no wonder that tourists will be sunk in the natural beauty of untouched Cambodian islands which is considered as the priceless hidden gems of Indochina. Nothing is better than diving and snorkeling in turquoise-green water of the best-known Cambodian seaside destinations in the hot summer days. Here are top 5 explore-worthy Cambodian islands as the best recommendations for sightseers.
1. Koh Rong
Located in the Gulf of Thailand, Koh Rong is the island of partying owning white sands and crystal clear water. Known as Cambodian tropical paradises, far away from the extended sandy beaches is the pristine forests where a variety of birds, butterflies and other wild animals can be found. It is common to catch sight of bio-luminescent planktons creating a colorful reflection of light in the dark water in the evening. Although the location still remains undeveloped and tranquil, sightseers can easily experience diving, snorkeling, and trekking according to their tour arrangement.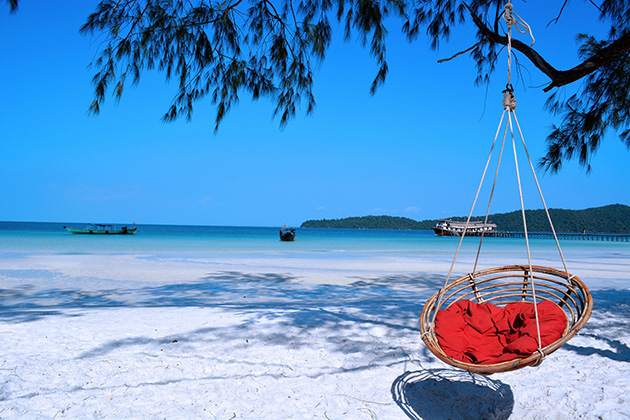 2. Koh Tonsay
Koh Tonsay or the Rabbit Island for its rabbit-like shape is ethereal in its untouched beauty that can bring you the best unrivalled experiences. The unavoidable trouble is tourists' souls might feel the same way as they are on cloud nine once they've took their steps forward onto the extensive sandy beaches in Koh Tonsay. Only taking 20 minutes to ride a boat from Kep is enough for tourist to escape from the noise and tiredness of the human civilization. Outdoor restaurants and rustic bungalows are scattered around the secluded island so it is perfect to sway in hammock under the green trees' shadows. Spending all day to stroll around Koh Tonsay to embrace the clean and clear air or swimming under the emerald water is ideal for people working under pressure.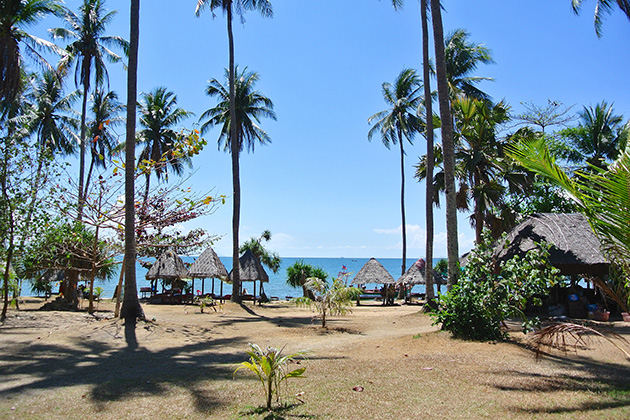 3. Song Saa
Containing two small solidarity islands, exploring Song Saa will bring unforgettable moments in your lifetime in the island of luxury. It is worth a visit for sweet couples because in Khmer, Song Saa means 'sweethearts'. Taking your dearest family there to enjoy the wonderful services of 27-room resorts or monumental villas with the price of $3,000 per night. Start your journey with the sweet bottle of champagne and then embrace delicious local delicacies in well-stocked mini bar. The sustainable development of Song Saa is highly appreciated as the ideal symbol of Cambodian coastal destinations.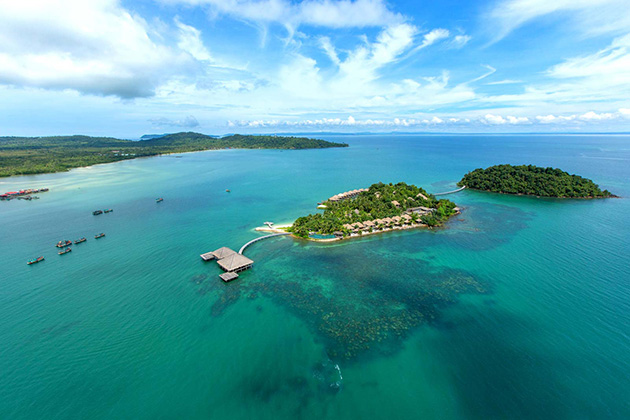 4. Koh Thmei
Head to Ream National Park, sightseers can't take eyes of peaceful island Koh Thmei which is the residence of hundreds of lizards, monkeys, civets, birds, ponies and various threatened animals such as fishing cats and wetland feline. Staying at Koh Thmei resort in simply-decorated but environment-friendly and solar power-used bungalows is the only way to discover the whole island. The major activities for domestic and international guests include hiking, park visit, snorkeling and driving the two-person sea kayaks. Travelers can also discover nearby deserted beaches to catch a glimpse of swimming dolphins along the coastline.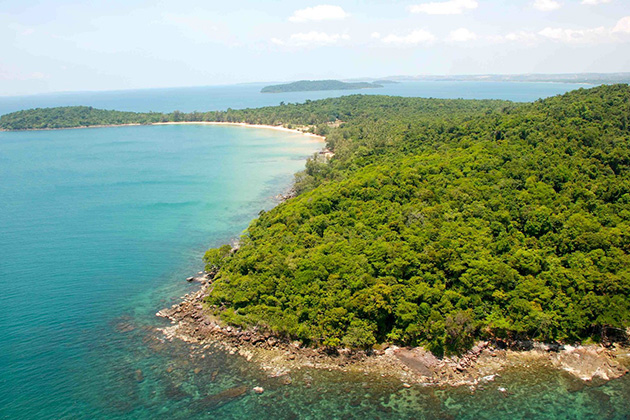 5. Koh Totang
Koh Totang is the best choice for unplugging people who want to cut completely the connection from their tired daily life to experience astonishing beach-combining. The only habitat for travelers there is Nomad's Land which built five little beautiful bungalows.
However, it will be uncomfortable for people who usually have to send email because Internet is not available in Koh Totang. Guests completely take a shower by stored natural rainwater in the bungalows and lie in a hammock and enjoy the peaceful life without noise.