Explore Laos, besides discovering breathtaking sceneries, no sightseer can refuse the chance to enjoy delicious street foods-the highlight of the adventure. The uniqueness of Laotian dishes is their light bitterness, the diversified recipes along with special used ingredients. It is no doubt that the combination with spices, sweets and sours makes the irresistible flavours of Laotian foods.
To avoid the food culture shock in Laos, it is advised to look through our best recommendations of the most interesting Laotian dishes that tourists should consider trying.
1. Khao niaw (Sticky rice)
Differ from Vietnamese sticky rice, Khao niaw-the national dish is always carried in a little funnel-shaped bamboo basket in every Laotian meals and eaten by your hands. What make the dish unique comes from its particular recipe. After preparing Laotians roll carefully the steamed glutinous rice into small rice balls and get them dipped into non-oily chili sauce and buffalo skin. It is said that the amount of glutinous rice eaten by Laotians is more than that of any other countries all around the world because the locals consume the chewy and luscious food in almost every time of a day.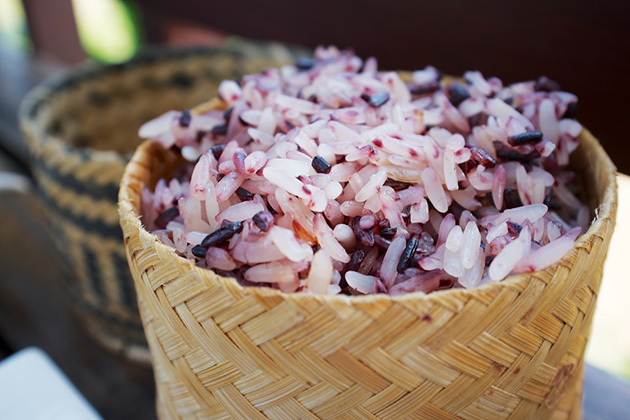 2. Tam Mak Houng (Spicy Green Papaya Salad)
The special dish Tam Mak Houng is processed from shredded papaya seasoned with sour lime, fish sauce, hot chili, sugar and salt. What surprise travelers should be the amazing sweetness of the specialty without any palm sugar included. Another difference is found in the sweetness of the dish: palm sugar isn't added to Lao papaya salad. Ensure that your wish will be fulfilled by enjoy the delicacy alongside with Knao niaw and pork and the fully served meal even doesn't cost you more than $3 USD.
3. Khao Jee (Baguettes)
Baguettes are considered as the most popular fast food in 'the country of elephants' due to the great influences from the French-inspired foods in the French colonization. It is easy to see Khao Jee widely sold in the everywhere on the crowded Laotian streets, in the little food stalls or the luxury restaurants. In spite of being influenced by the French cuisine style, Knao Jee is somehow different with French baguette. The making process of Laotian baguette includes cutting the bread into two equal pieces and then filling them with main ingredients which are Vietnamese sausage (boiled pork, cha lua) and pate made from pork liver adding seasonings such as cut cucumber, mayonnaise and chili sauce. Only 10,000 Kip is enough for visitors to engorge palatable baguettes.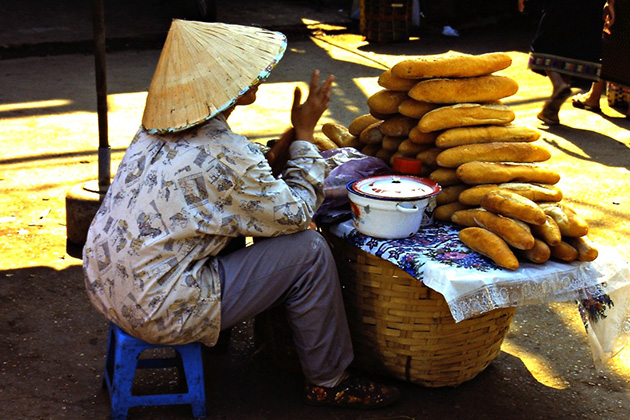 4. Oh lam (Stew)
No wonder that travelers can't leave Luang Prabang without trying Oh Lam which is a fresh green vegetable stew including gourds, eggplants, black mushrooms and beans combined with healthy herbs and basic ingredients consisting of coriander, chili and lemongrass. Finally, the delicacy is covered by a thick layer of hot and yummy Khao Niaw. In some locations of Laos, Chili used to make Oh lam can be replaced by Sichuan pepper.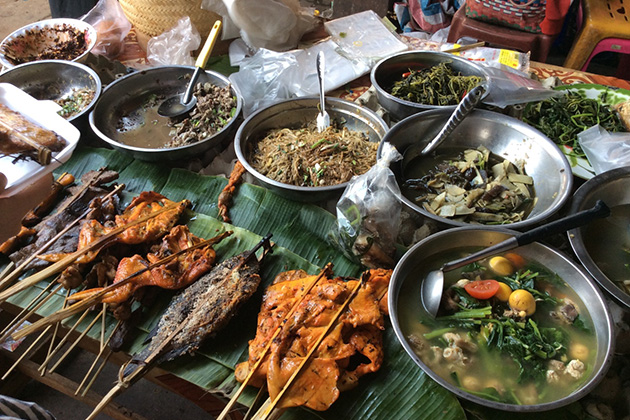 5. Beer Lao
Beer Lao is known as the national pride of Laotians which is the favorite drink of both the residents and foreigners. Nothing is better than take a deep breath and relax with an ice-cold beer which is widely sold in Laos in terribly hot days. Two most popular Laotian kinds of beer are Beer Lao Black or Beer Lao Gold. Purchase a big bottle of beer Lao costing 10.000 Kip when touring Laos to complete your unforgettable experience.