Many tourists think they can explore enough of the Mekong Delta on a brief day-trip out of Ho Chi Minh City. In fact, there's so much more than one pagoda and a floating market in this region. Mekong Delta, considered the 'Rice bowl' of Vietnam, is home to unique ecosystems, as well as diverse communities unlike anywhere else in the world. It is really worth discovering more than an afternoon in your Indochina itinerary, and this ultimate guide will show you why.
Overview of Mekong Delta
The Mekong Delta is a network of distributaries in southwestern Vietnam. The river itself starts in the Himalayas and passes through 4 countries (China, Myanmar, Thailand, and Cambodia) before reaching Vietnam, which partly explains why the waters are so murky. More than half of Vietnam's rice and fish comes from the delta region which is vital to the Vietnamese economy and diet.
Life in the area revolves in the water, from the famous floating markets to the vast agricultural industries. It is an amazing variety of fruits, flowers and livestock grow in the region. The Mekong Delta is considered the rice basket of Vietnam, providing the sustenance of million people.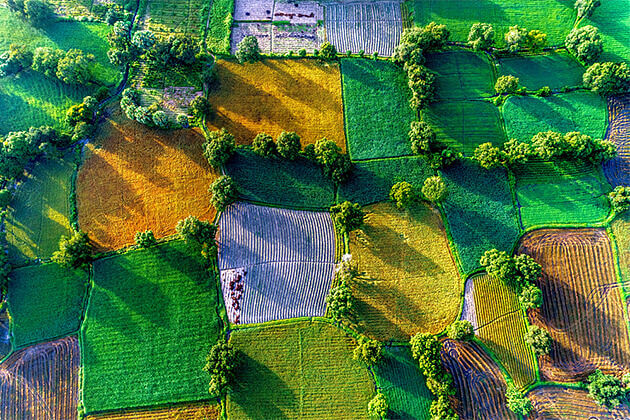 When to Visit Mekong Delta
The answer is all year round. Because it offers pleasant weather for most of the year. Even when it rains, you will witness interesting aspects of local life.
If you travel to the Mekong Delta on the occasion of Tet holiday (Vietnamese Lunar New Year) which is around February of every year, you will have a chance to see how locals prepare their festivities. They decorate their home with flowers and prepare special dishes that are found only during this time.
May to August is also an ideal time to visit Mekong Delta. It is summer time for many fruits to grow in the area. Thus, you can visit the fascinating orchards and sample fresh fruits.
September to December are the rainy season with lots of floods as the water levels of the river branches will rise. This reason brings both pros and cons to the locals. Transport will be a bit difficult since they have to use boats most of the time, and they won't be able to grow as many products with high levels of water. However, the water also brings a lot of seafood and rich mineral soil of the next harvest.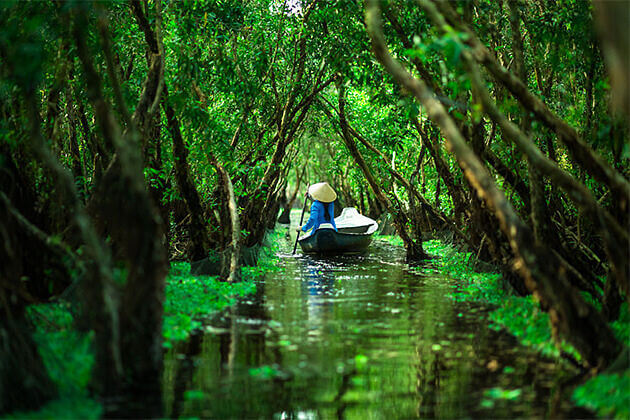 How to Get to Mekong Delta
There are three main ways to get to the Mekong Delta from Ho Chi Minh City: by bus, private car or motorbike. Note that if you take the car or bus option, the driver can just drop off in a fixed location since they can't cross the river. But by motorbike, you can board the big ferry and carry on once you reach the land again.
By Bus
Traveling by bus is a common way that most tourists choose. There are plenty of bus lines taking you to the delta, one of the well-known bus operator in the city is Phuong Trang (Futa orange bus line). You just need to choose the province that you want to get from Ho Chi Minh City first, and then book your ticket through their website. The price ranges from 100,000 VND to 200,000 VND depending on the distance and which provinces choose to visit.
By Private Car
This option will be suitable for those who are traveling with their family or in a big group and have a well-planned itinerary. The car driver will charge you based on the number of days you hire them for and also depending on the route and number of stops. The average quote for a seven-seat car is 75 USD – 80 USD a day and 90 USD – 95 USD for a minivan with 16 seats for a day. Remember to rent the car in advance at least two days of your arrival to get a cheaper price. But it's better if you can ask a local or hotel staff help you to get one.
By Motorbike
Save the best for last! Motorbike is actually the best way to soak up any part of Vietnam. However, if this is the first time you travel to Vietnam and don't know how to drive a motorbike, you should not choose this option because it is dangerous. If you are not ready for it, don't take the risk.
There are many motorbike rental shops in the backpacker area along Bui Vien street, De Tham street, or Pham Ngu Lao street. Also, there are three common types: manual motorbike, automatic motorbike, and motorcycle. All you need to do is just walk around and find one suitable for your budget and your interests. After that, you can hit the road.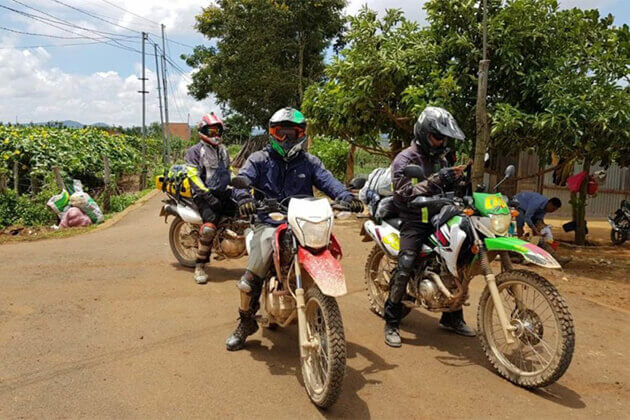 Things to Do & See in Mekong Delta
Experience the Floating Life
Your trip to the Mekong Delta won't be completed if you don't sit down on a narrow boat and paddle your way down the river under fronds of palms trees while making fascinating stops along the river at homes of those selling dried fruits or candy.
Life here is mostly near the river. Houses are built on stilts to withstand the floods that happen regularly. You can observe ferries carrying people, vehicles, and foods along with floating villages. Experience to paddle your way through the river and walk on planks balanced between two boats to buy food. It is pretty easy to find a boat for cruising once you arrive at one of the provinces in the region.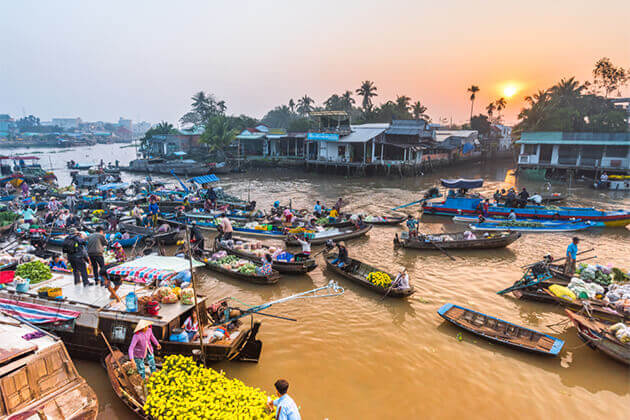 Floating markets are considered the noticeable highlights in Mekong Delta. Below is a list of the six best floating markets in the Mekong Delta for you to discover:
Cai Rang floating market, Can Tho province
Cai Be floating market, Tien Giang province
Phong Dien floating market, Can Tho province
Nga Bay floating market, Hau Giang province
Nga Nam floating market, Soc Trang province
Tran On floating market, Vinh Long province
These floating markets open early in the morning (3 AM – 4 AM) and become busy around 5 AM – 6 AM when locals will work on farms or paddle fields during the day. Make sure you wake up early enough to catch these incredible scenes.
Enjoy Mekong Delta Specialties
Sample regional cuisine is an essential and interesting thing to do in any places that you travel to. Providing 70% of the fruit consumed throughout the country, where else can satisfy your fruit craving other than the Mekong Delta? You will find a dozen different kinds of tropical fruits that are grown here such as pomelo, orange, coconut, mango, soursop, logan fruit…You can pay a visit to a local orchard to enjoy the fresh fruit while chatting with the locals.
Moreover, the locals are also creative, they come up with a variety of ways of incorporating these delicious fruits into dishes. For instance, banana can be eaten in their fresh status, or grilled, or covered with sticky rice then grilled and draped with coconut milk. Also, coconut can be eaten fresh, blended as a smoothie, or processed to become dried coconut candy. If you think you can survive on fruit for the rest of your life, Mekong Delta is an ideal destination for you to move on.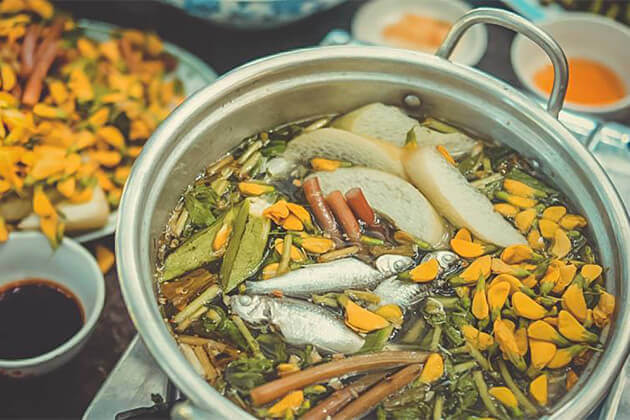 Visit Attractive Sights
Instead of just sitting on Bui Vien street, downing beers and watching people stagger up and down the street, taking a trip with a local or even taking part in one of their daily activities will give you authentic experiences. It is recommended that you find a local friend while exploring the Mekong Delta. They will help you with communication and show you around places that are hard to find yourself as a tourist. Mekong Delta offers many points of interest and it is too much to list here. Besides, visiting orchards is a must in your Mekong Delta tour. It's a great chance to walk along the rows of dragon fruit trees and observe farmers as they collect the fruit.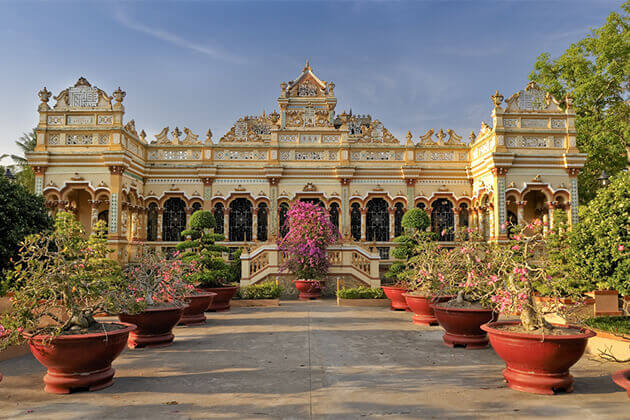 There are six of the most famous temples in Mekong Delta for your reference:
Vinh Trang temple, Tien Giang Province
Truc Lam Phuong Nam Temple, Can Tho Province
Doi temple (Bat temple), Soc Trang Province
Kh'leang temple, Soc Trang Province
Khmer Pothisomron temple, Can Tho Province
Phat Lon temple (Giant Budha temple), An Giang Province
Bird Watching
Mekong Delta is considered as the Kingdom of birds in Vietnam. If you plan to visit this region, try not to meet the chance to pay a visit to Tram Chim in Dong Thap province – an ideal destination for bird watching in Vietnam. You should visit Tram Chim in March or April.
Swim in the Swamps
Certainly, swimming in a swamp is one of the wildest and most authentic experiences that tourists should not miss in your tours to Mekong Delta. From September to December, the water from upstream of the river flows to the provinces located near the border including An Giang, Dong Thap, and Long An, it washes away all the garbage left from the harvest and covers the fields with water. It will be the perfect time for everyone to enjoy their afternoon swimming in the swamps. You can also participate in the fishing activities of locals and your catch will obviously your dinner.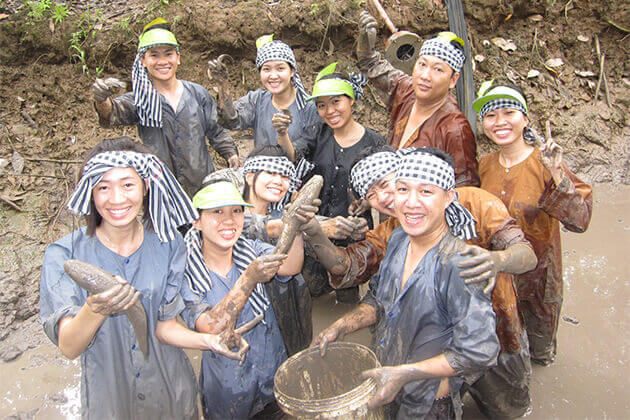 Net Fishing in Mekong Delta
Where else can you go net fishing if not Mekong Delta river tributaries? The dozens of creeks and naturally formed ponds are great for fishing. You can sit on the bank with your fishing rod, and waiting for your lunch to get hooked on your bait. More interestingly, you can roll your jeans up and get into the water with other locals to catch fish.
This process uses no modern equipment at all – it is done by your hand and net. You will also find various animals, sometimes frogs, crabs or shrimps. The edible fish are then taken to the markets or you can prepare it yourself for lunch. Thus, why don't you have a go at straw roasting the fish you caught. The fish are placed on a bed of straw and set on fire. The outside skin burns and crisps, but you scrape it off before chowing down. What a delicious dish!