Mui Ne is one of southern Vietnam's famous beach destinations, which stretches 12 kilometers long and houses lots of beachfront resorts in Phan Thiet. Twenty years ago, it was a sleeping fishing town, but nowadays, the beach has evolved into a tourist spot. From Ho Chi Minh City for just a few hours driving, Mui Ne is a highlighted option for travelers who want to jump into a carefree holiday on the beach.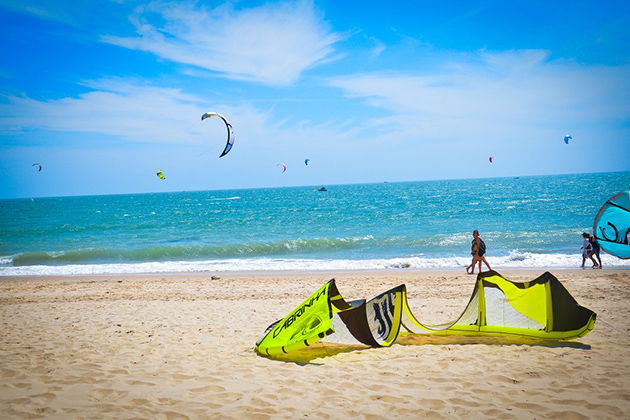 Mui Ne Beach lies in the beautiful tropical area with groves of palm trees, Saharan dunes through kilometers of white, yellow and red sands. The region is also located by winding rivers with crabs and fresh fish; pure waterfalls; tall mountains with bamboo rainforests and tropical birds. Mui Ne is also a paradise for kite surfers, which draws the attention of sports worshippers all around the world due to its consistent winds crossing onshore. The best time to visit this place is from October to the end of March. There are also some schools offered for beginners. Rentals and lessons are always ready on offer for windsurfing, sailing, kayaking, kite surfing, SUP, and jetski.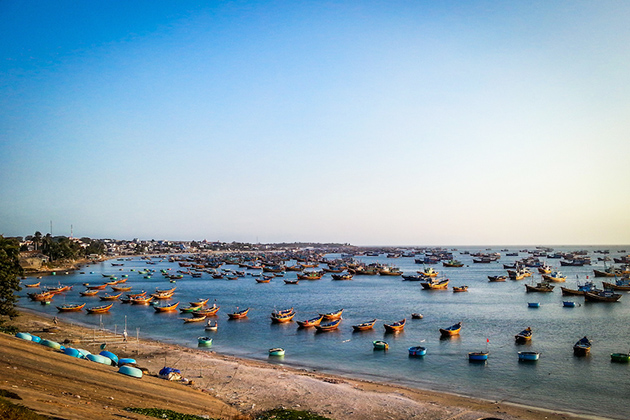 Mui Ne is famous for many clean and beautiful beaches in which the biggest one is Hon Rom in the North East direction. In Hon Rom, tourists have a variety of place to enjoy with their friends: The front beach attracts young people and those who want to join the animated air while the back side is suitable for ones who love the quiet and silence. Playing with the waves, swimming in the sea or relaxing on the beach will drive you to a sense of comfort and relaxation.
Besides Hon Rom, Suoi Nuoc is also a beach that is worth a visit. The beach owns a local, isolated and windy landscape. Thus, if crossing through this area, tourists may encounter shepherd boys who are herding sheep, cows, and goats. The beach is a bit longer than Mui Ne and extends to the village of Binh Tien where a new resort is under construction. Suoi Nuoc is expected to attract more tourists during the next few years.
Ca Na Beach is in the North East of Mui Ne, where there are some rocky mountains plunging into the sea. The beach, though it is not popular among tourists and the facilities are still sparse, is probably ideal for scuba diving and snorkeling to see coral reefs in Vietnam.
In short, beaches in Mui Ne are attractive for most of the time. If you are seeking for a destination in Vietnam that satisfies both sightseeing and outdoor activities then Mui Ne would be perfect.