Van Long is the largest nature reserve in the northern delta. It is set in Gia Vien District, Ninh Binh. Van Long Lagoon with a rich ecosystem is the habitat of many flora and fauna. In particular, Van Long owns an extremely picturesque scenery, with an idyllic and peaceful atmosphere. Also, you can explore the enchanting mountains and caves here. It can be said that this is a very appropriate destination for the ones who can only handle a little time only.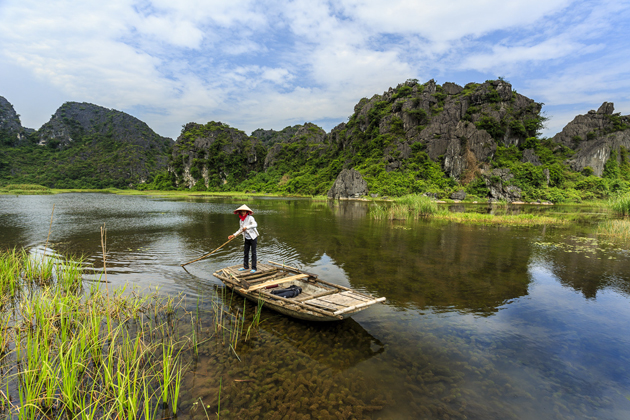 Travelling here, you will be sitting on a boat, admiring the mesmerizing landscape Mother Nature granted for van Long. You will be soon impressed by the imposing mountains, making up a majestic natural wall, surrounding vast and quiet swamps.
With an area of nearly 3,000ha, Van Long Nature Reserve possesses 32 astounding caves such as Fish Cave, Shadow Cave, Turtle Cave, Chanh Cave, every cave brings its own unique beauty but still the most beautiful cave may be Fish Cave, lying on the foot of Hoang Quyen Mountain. The cave is 250 metres long, 8 metres high, 10 metres wide, with a half-submersible, half-floating structure. The ceiling is a high arch hanging down numerous glittering stalactites, with various strange shapes of the animals both in the water and in the woods. Besides, in the cave there are a lot of species of the freshwater fish… Residents here tell that very long ago, someone caught a fish weighing 45 kilograms in this cave, so from that, people have called it Fish Cave.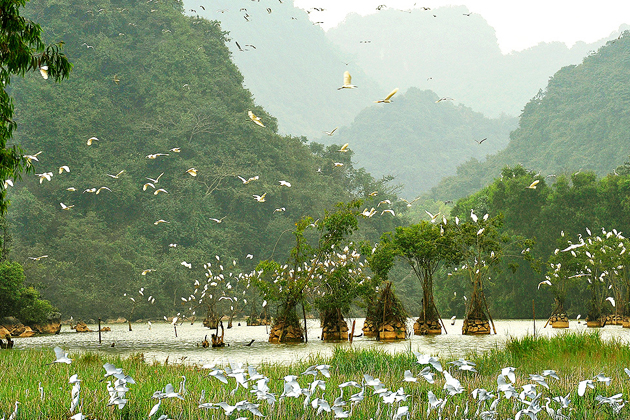 In addition, Thung Doi is the cave with the best height above the ground (around 210 metres); the cave owns the best width is Shadow Cave (16 metres). Especially, the mountains also have very interesting names such as Book Box Mountain, Clawing-Cat Mountain, Fairy Mountain, Elephant Mountain, Portal Mountain, Orphan Mountain…
In Van Long Forest, there are 457 species of higher plants; many of them are listed in the Vietnam Red Book. 39 species of animals inhabit here, amongst them, there are 12 species of rare animals such as trachypithecus delacouri, ursus thibetanus, chamois, coolie, stump-tailed macaque… Furthermore, there are also a super diversity of rare reptiles like copperhead, varanus, gecko…and insects in this rich ecolosystem.
In the dry season, Van Long is the shelter for schools of migratory birds from the north. There are thousands of pheasants, white storks, bitterns …flying to here for living.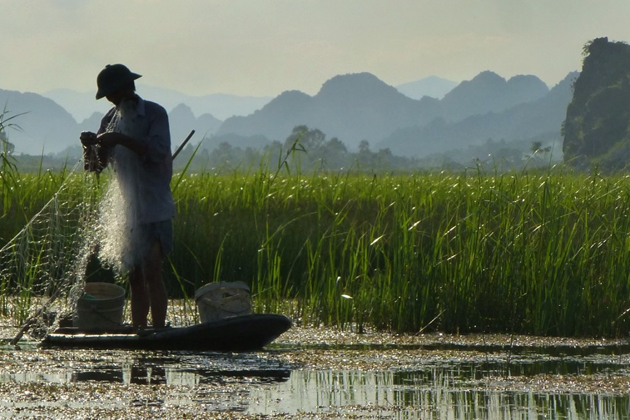 Visiting Van Long Nature Reserve, you should not miss the 600-year-old diospyros decandra, Chi Le Pagoda, Mai Trung Pagoda, Le Kha Lang Temple, Nguyen Holy Temple, Dich Long Cave, Dinh Tien Hoang Shrine, the shrine worshipping Holy Mother, Thanh Son Pagoda halfway up the mountain and to watch the rock painting on Clawing-Cat Cliff …
Along with Hoa Lu, Tam Coc – Bich Dong, Cuc Phuong …, Van Long is a must-come address in any your Ninh Binh trips.