Every country in the world has a traditional New Year Festival with its customs and unique rituals. Countries in Southeast Asia such as Cambodia, Laos, Myanmar, and Thailand often celebrate the New Year following the Buddhist calendar with the traditional water festival in the middle of April. Taking place at the same time period and carrying a similar meaning, however, due to the traditional customs and the varied in language, each country has its own name to the label for the water festival.
Water festival is one of many traditional festivals of Southeast Asia as well as Thailand and Myanmar. They are derived from rice agriculture beliefs and religious characteristics of Indochina countries. In Laos, people call it Bunpimay Festival, Thais name it as Songkran Festival, the Cambodians are proud of their CholChnam Thmey Festival, and people call it Thingyan Festival in Myanmar. The festival was held in order to bring coolness, prosperity to all things and to purify human life. On these days, people splash water on each other to bless with luck and pray for a happy new year.
Water Festival in Laos: Bunpimay Festival
Traditionally, Lao New Year took place during the fifth month Buddhist calendar, starting from the sixth day of the fifth month and ends on the fifth day of the sixths month. Lao New Year was currently held from April 13th to April 16th of each calendar year, when the sky-high bar, large rivers have abundant water symbolizes a new year many buds. There are many concepts to explain the origin of the water festival, however, it can be understood that the festival associated with agriculture life paddy planting, simultaneously, it also stems from the bold color legend Giao.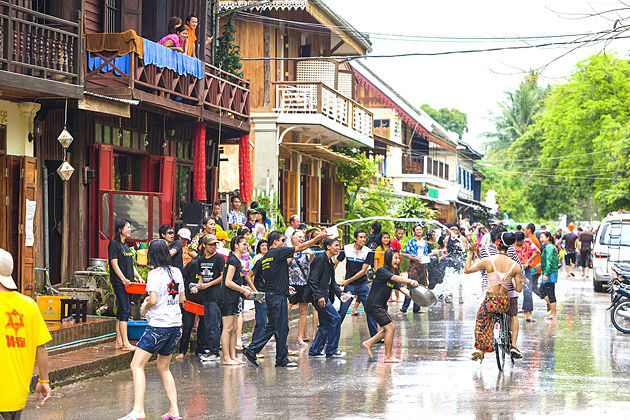 Water festival is often celebrated throughout the country but the most fun is in Luang Prabang and Vang Vieng. Tourists can enjoy the truly festive atmosphere with a lot of fascinating folk games and visit the wonders of Luang Prabang. On this occasion, local people gather to pay respects to the Buddha, bathe the Buddha statues with aromatic water, listen to the preacher, and plash houses, temples, animals, trees to wash away unlucky things and wish for a healthy new year.
Besides water rituals, the Lao people have another unique custom that is tying a thread around their wrists. They tie colorful threads as sending luck and health to the person being tired. This custom is simple and rustic but it reflects deeply the gentleness of Laotian. During Bunpimay Festival, they gather together to sandstone in the temple courtyard, decorate with flower lights, pennant flags, and colorful clews to the monks, and hope for a wealthy new year.
Water Festival in Laos 2021: April 14th to April 16th (It may vary)
Water Festival in Cambodia: CholCham Thmay Water Festival
CholCham Thmay Water Festival is celebrated from 13th to 15th April and visitors are usually interested in coming to Siem Reap and Phnom Penh to join the water festival. The costumes during the festival are almost similar across Indochina countries, but one special different thing you cannot miss in the Cambodia water festival is the Apsara dance show. It is Cambodia's national spiritual dance which requires elegance of the dancer through skillful hands, radiant face, and standard body.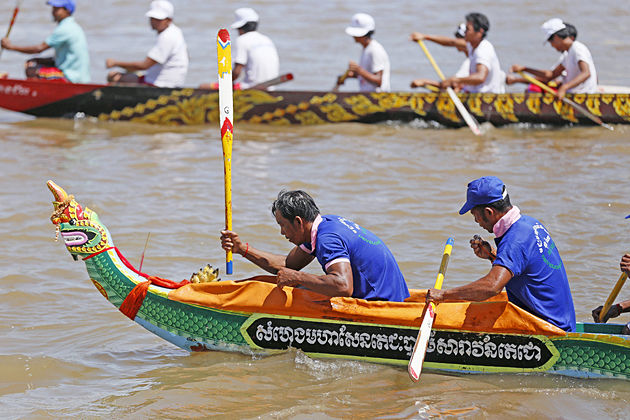 In addition, to join the Cambodia water festival, travelers will have a chance to enjoy traditional Khmer foods such as Amok, Khmer red curry, fried crab, fried beef, etc cooked with scented wine. You will certainly have a relaxing trip and lots of laughs with local citizens.
Water Festival in Cambodia 2021: November 18th to November 20th (It may vary)
Water Festival in Myanmar: Thingyan Festival
According to legend, the New Year festival in Myanmar comes from the meaning of wanting to keep the peace for all things in the world and pray for the blessing of the gods. The Thingyan Festival is purely secular and is not mentioned in the Buddhist scriptures. Nevertheless, Myanmar people celebrate the Thingyan festival integration with Buddhist rituals. So, although dissipated in the water festival, they do not forget to organize the festival respectfully.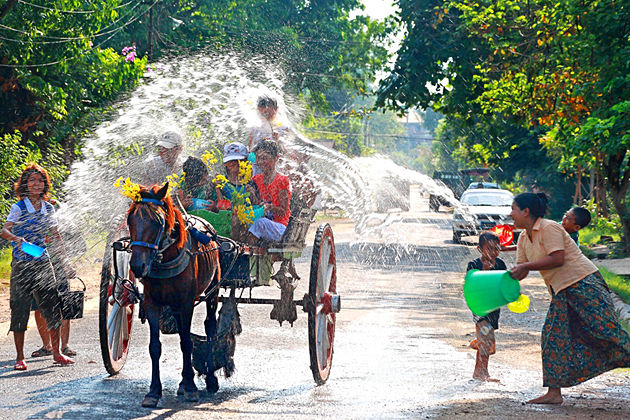 Although young people play and splash water on the streets, they also do not forget the religious merit compensation. In that spirit, Myanmar people are very happy to welcome the New year in the spirit of Buddhism.
Water Festival in Myanmar 2021: April 13th to April 19th (It may vary)
Water Festival in Thailand: Songkran Water Festival
The traditional Thai New Year, Songkran is held annually from 13th to 15th April when Thais show their respects to Buddha, clean houses, and prepare foods. According to their custom, local people will come to riversides or coasts, build sandy temples and pagodas. They believe that their sin will be taken away by each grain of sand. Early in the first morning of the New Year, Thais usually do some temple rituals, thurify and splash the elderly with water to pay tribute to them. At home, people wipe and scent the Buddha images carefully. During the Songkran Water Festival, many parades, beauty contests are organized.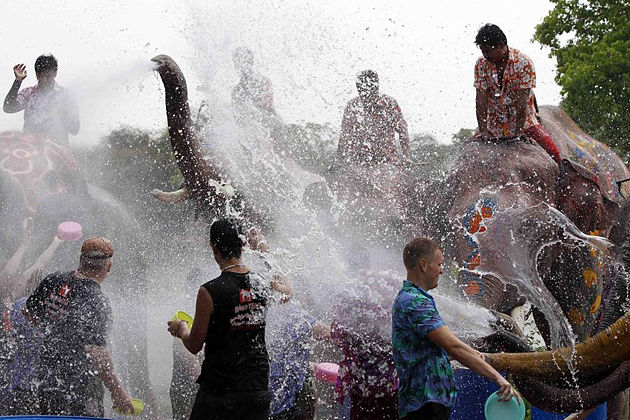 The Water Festival in Thailand attracts many more tourists than any other countries thanks to its organizational scale and entertainment. You can observe the huge elephants joining the festival with people, they even feel much funnier than us because of being bathed into the water in the hottest weather month. Especially, during the Songkran water festival, people will splash water on each other with buckets, water guns, water balls, etc. Thais believe that the more you are wet, the luckier you receive in New Year. Thus, do not hesitate to pour a big bucket of water on your friend if you travel to Thailand these days. Bangkok, Pattaya, Chiang Mai, and Phuket are great destinations to enjoy entirely the amazing festival atmosphere.
Water Festival in Thailand 2021: April 13th to April 15th (It may vary)