Vietnam and Cambodia share a long border on the Indochina Peninsula. Both countries pride themselves on attractive tourist and rich unique culture offer. In either country, you will encounter friendly locals, impressive attractions and tasty cuisine. Traveling between two countries is remarkably easy, with a variety of ways to travel, including flights, buses, cars, and boats. Yet, ground transport features certain limitations. Follow our guide to choose the most suitable transport for your Vietnam Cambodia tour packages.
Travel Documents between Vietnam & Cambodia
Visas are required to travel from Vietnam into Cambodia; however, they are available on arrival at airports and border crossing. In order to qualify for a visa upon arrival, you must have two passport-sized photographs. You may be fined a small amount if you don't bring, however, you will be granted a visa anyway. For land border crossing, tourists may want to arrange for a visa beforehand because many visitors are overcharged for visas by border guards. Cambodia offers online visa processing through the country's Ministry of Foreign Affairs websites.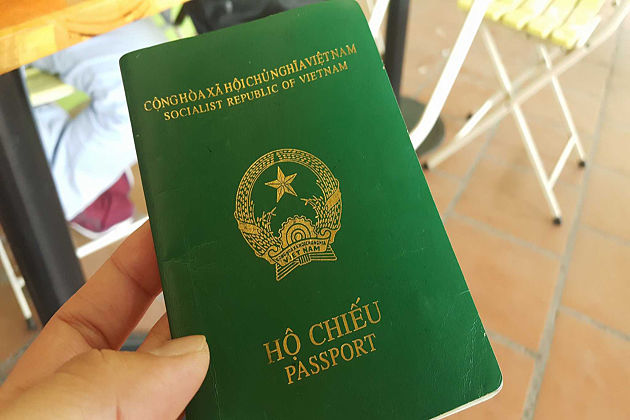 How to Travel between Vietnam & Cambodia?
Land Crossings
Numerous land crossings are available between Vietnam and Cambodia. Many tourists travel from Ho Chi Minh City to Phnom Penh by bus. The trip takes approximately six hours, including a border stop. Start from Moc Bai on the Vietnamese side to Bavet on the Cambodian side. Additionally, as early 2011, at least seven other land border crossings are open between the two nations; private vehicles are allowed to cross at all points. Visas upon arrival also are available at most land border crossings.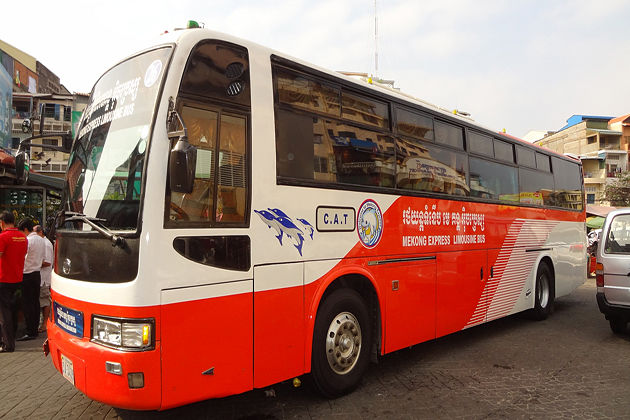 Water Crossings
Before ending in Vietnam, The Mekong River flows north to south through Cambodia. Riverboat border crossings are available with brief stops on land to check passports and visas. Fast boat service is available from Chau Doc Province in Vietnam to Phnom Penh. More leisurely cruises are also available, and service is provided all the way to Siem Reap in the north-central part of Cambodia.
Flights
Main Airports in Vietnam
Vietnam has 3 main airports that serve international visitors, including Tan Son Nhat International Airport in Ho Chi Minh City, Danang International Airport, and Noi Bai International Airport in Hanoi.
Of these three, Tan Son Nhat International Airport (Ho Chi Minh City) is the most popular among regional and international passengers. Noi Bai International Airport (Hanoi) is the next major airline hub. Both airports feature commercial areas with wide shopping opportunities. Tan Son Nhat International Airport is virtually in the city while Noi Bai International Airport is located 30km (approximately 20 mins driving) from the city center.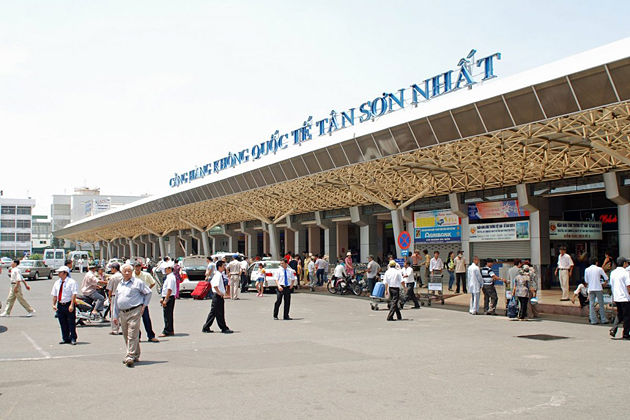 From Cambodia, travelers can also land at Danang International Airport. Situated roughly halfway between Ho Chi Minh City and Hanoi, it is usually used by visitors visiting Hoi An and Hue. Most Cambodian travelers choose to fly to Saigon first because of lower fares and shorter flight times.
Main Airports in Cambodia
The Pochentong International Airport, located in Phnom Penh, is considered the major international gateway in Cambodia. The airport serves both foreign and local travelers. It also has a wide range of accompanying services such as ATMs, dining and shopping. It is approximately 14km to reach the airport from the city center of Phnom Penh.
Another major Cambodian airline bub is Siem Reap International Airport which is 8km far from the city center. The new, modern terminal of the airport was inaugurated in 2006 and continues to grow to meet the increasing number of arrivals each year.
Fly between Cambodia & Vietnam
By putting certain exceptions aside, traveling to Vietnam by flight is the most convenient transportation, especially in spring and autumn. The best time for visiting this country is the months of March, April, September, and October. Thus, travelers should book a flight to Vietnam from Cambodia during these months. Also, for the best chances to get the lowest deals, book a flight between 2 and 2 and a half months before the scheduled departure.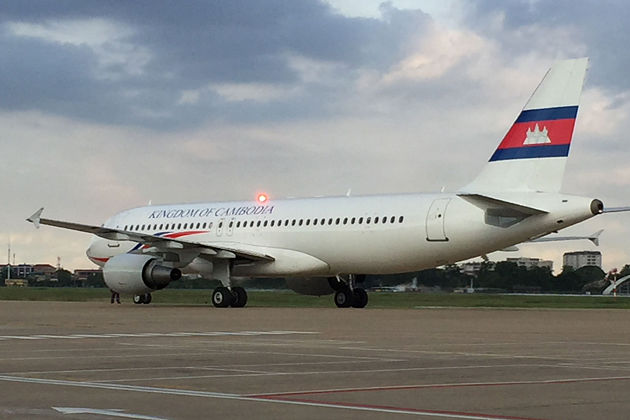 Direct flights take off airports of Phnom Penh and Siem Reap and destination airports are usually Ho Chi Minh, Danang, and Hanoi.
Tourists traveling from Phnom Penh to Ho Chi Minh city usually fly around an hour. You should prepare $80 USD for a one-way ticket. Some of the most affordable airlines are Cambodia Angkor Air and Vietnam Airlines, others are usually significantly pricier. In general, the average flight cost from Phom Penh to Phom Penh International Airport to Tan Son Nhat is around $115. Your return trip may cost around $200.
Flying between Phnom Penh and Hanoi are usually connecting flights. The shortest flights between two cities last around 4 hours. In comparison with flight deals to Ho Chi Minh City, these are higher, starting from around $140 in one direction. Therefore, booking a flight between 2 and 3 weeks in advance usually grants the lowest fares.
Direct flights from Siem Reap to Ho Chi Minh save you both money and time. It is around 15 minutes longer than from Phnom Penh. As for the fares, these are similar or a bit higher, depending on many factors. The average price for one-way flights is about $140.
In general, direct flights take tourists from Siem Reap to Hanoi in less than 2 hours. In some case, direct flights will set you back less than connecting flights. However, flights with intermediate points are cheaper ore often.
Flights from Cambodian capital of Phnom Penh to Danang are another complex affair. Passengers traveling between these destinations usually have to hand once or twice before reaching Danang. Planes flying between these cities usually land in Ho Chi Minh, some other connecting cities are Bangkok (Thailand), Kuala Lumpur (Malaysia) and Singapore. This journey may take 10 hours.
Last but not least, travelers can get to Danang from Siem Reap. You can opt for direct or connecting flights between these destinations. The average deals are around $200 for a one-way flight from Siem Reap to Danang, your return costs around $300.
It shouldn't surprise you to find a cheaper fare for a connecting flight between destinations. However, direct flights are more affordable in most cases because you will reach your Vietnamese destination in around 1 hour with a direct flight while you will need around 5 hours at least with connecting flights. Some airlines flying between the Cambodian and Vietnamese cities are VietJet Air, Vietnam Airlines and Jetstar Pacific.