Deciding when to have your Indochina vacation can be tricky as the weather can be hard to guess sometimes. Tropical temperatures across Southeast Asia tend to fluctuate between 26°C (78°F) and 32°C (86°F). In the warmest months, this figure may climb as high as 40°C, making it hard to even draw a breath.
The best time to visit Vietnam and Cambodia, therefore, is in spring and autumn (February to April and August to November). The pleasant weather together with the clear blue sky of this captivating region will definitely make your Indochina tour an enjoyable experience as well as offer plenty of photo opportunities.
Best Time to Visit Vietnam
Vietnam is a tropical monsoon country where the weather differs depending on the regions and the seasons. Spring and autumn in Vietnam generally have more moderate temperatures and lighter rainfall. If you want a smooth travel to fully appreciate the highlight destinations without being bothered by the ever-changing weather, autumn is the perfect season to arrange your Vietnam vacation. On the other hand, if you want to witness the change of weather between destinations, spring is a perfect time! In Spring, Vietnamese people also celebrate the biggest holiday of the year – Tet (Lunar New Year celebration). It usually occurs in late January or early February. During this time, transport and accommodation options are often full and prices rise.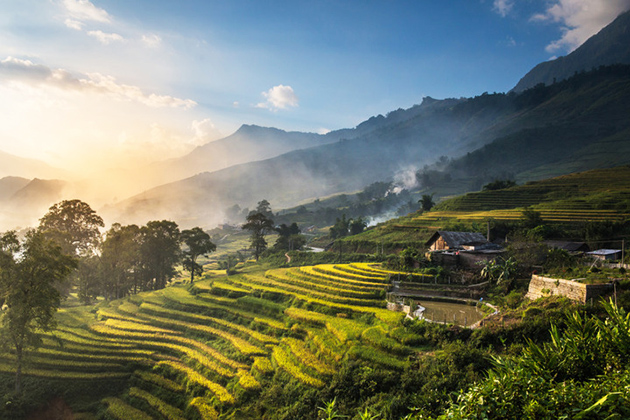 Even in the summer when it rains and the weather becomes extremely hot, you can still enjoy your Vietnam tour if you're somewhat of a beach enthusiast. Summer begins in May and lasts until September, the day is full of burning hot sunshine with the deep blue sky and temperature that calls for swimming, scuba diving, kayaking, and exploring the jungles. Halong Bay is a must-visit destination during the summer for its sceneries and a lot of big festivals. You can also go to the mountainous areas of Sapa and Dalat to get away from the heat or simply enjoy their stunning view.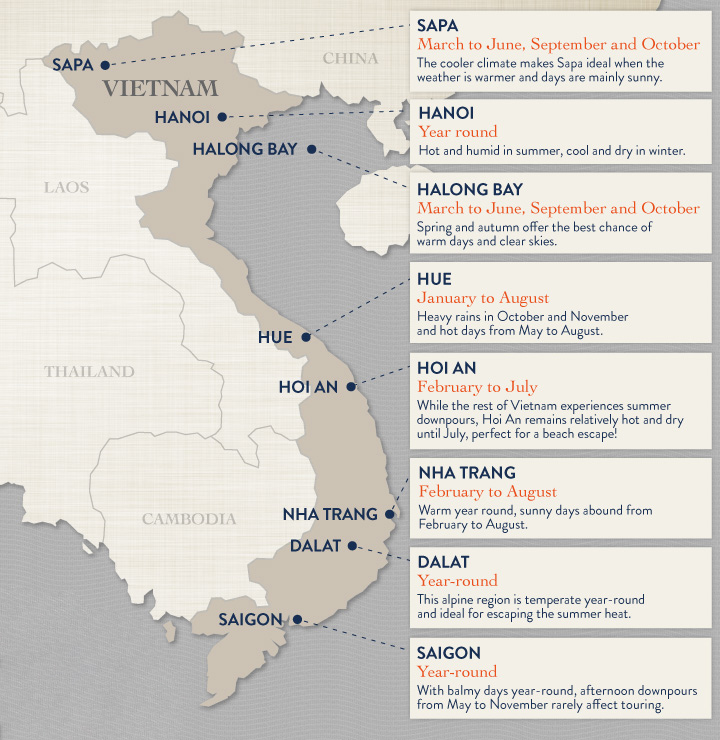 Best Time to Visit Cambodia
The dry season in Cambodia lasts from October to April, while the dry season is from May to October. Each season has its own charm and offers different types of activities.
The rainy season may be troublesome due to the heavy rains and strong gusts of wind that come with it. But worry not. The rain stops as unexpectedly as the way it comes, leaving the whole landscapes in a refreshing color of green and skies in a clear shade of blue. The temples and ancient buildings of Cambodia seem to stand taller in the rains and look more majestic after, offering visitors priceless photo opportunities and a stunning view to marvel at. If you are into taking pictures and want to capture exotic sceneries, visit Cambodia, especially the renowned Angkor Wat, in its rainy season.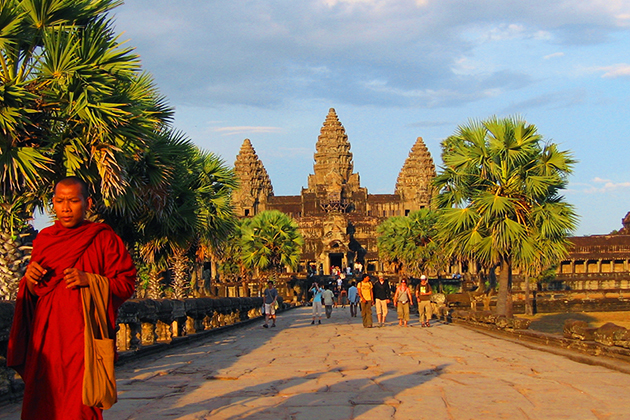 On the contrary, Cambodia's dry season carries little rain and the weather is hot sometimes. The dry season takes away the lush green color and paints a shade of gold upon the landscapes. If you want to enjoy the beauty of Cambodia's beaches and take part in various outdoor activities, you should come to visit during the dry season. It is also Cambodia's peak season when tourists rush out to enjoy the sun and stunning beaches at Kep, Sihanoukville and Koh Kong.
You can come to Vietnam and Cambodia any time of the year and there will be Indochina tour packages designed to meet every requirement of yours. You can choose to come in the peak seasons like spring and autumn for an unforgettable Indochina vacation or come during other months to enjoy the exceptional and rare beauty of this incredible land.