Before sightseeing any destination, understanding the national currency and exchange rate of the country is a must. It is even more difficult for sightseers to find out these information of 3 nations in Indochina tours.
Cambodian currency and exchange rate
Being a developing country, the Cambodian monetary system has not been completed. Therefore, touring Cambodia, bringing cash is important because credit cards are not accepted in every areas.
RIEL is the official currency in Cambodia in the denominations of 100r, 200r, 500r, 1000r, 2000r, 5000r, 10,000r, 20,000r, 50,000r and 100,000r which are similar in size. Inversely, coins which worth 50, 100, 200 and 500r are not popularly used.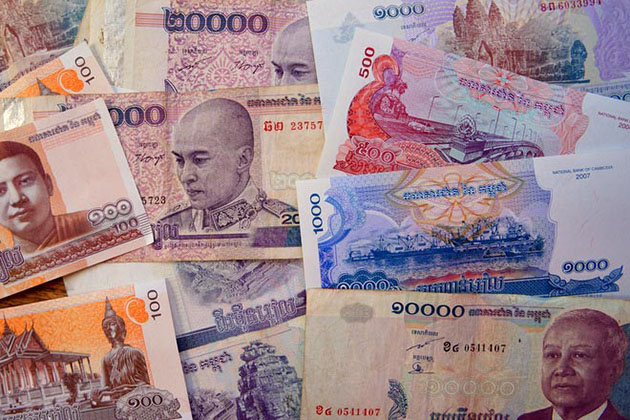 Another monetary unit widely utilized in Cambodia is the U.S. Dollar. It is accepted in every small areas in this country. Almost consumer goods in little stores, or even in the supermarket having price tags in this kind of currency unit. Tourists always exchange their national money to both U.S. Dollar bills and RIELs to enjoy the best benefits from purchasing goods and paying for services.
Currency in Cambodia can't gain consistency due to the great influences of the Pol Pot period. In Western Cambodia, the border-gate between Thailand and Cambodia, the Thai baht is preferred while accepted currencies in the Vietnam-Cambodia border is the Vietnamese Dong.
RIEL is accepted to be exchanged to the U.S. Dollar in Cambodia. The Cambodian Riel was unstable so that it fluctuated in the range of 4200 to 3950 according to the last year' statistics. The newest report shows that at the accepted exchange rate, US $1 is equal to KHR 4,000 and the KHR 5,000 is exchanged to US $1.25.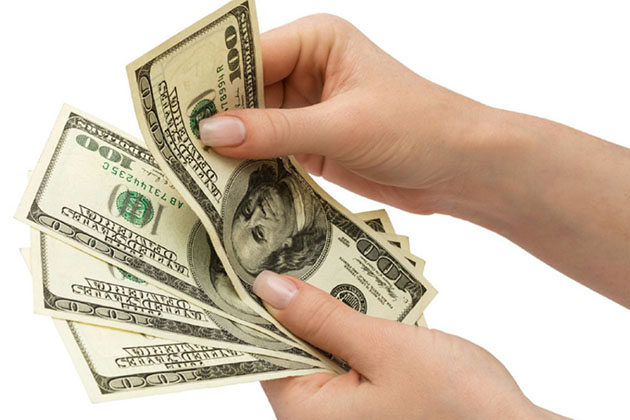 In Laos
From 1952 to present, the national currency in Lao is Kip. Initially, Laos used aluminum coins in denominations of 10, 20 and 50 atts with French or Laos transcript but the type of currency was not in use due to the great inflation in Laos. Thereafter, Laos' bills were gradually implemented in 1, 5, 10, 20, 100 and 500 kips. Until the beginning of 2016, the Laos monetary system is nearly completed with the complementation of 1000-kip, 2000-kip, 5000-kip, 10.000-kip, 20.000- kip and 50.000-kip notes.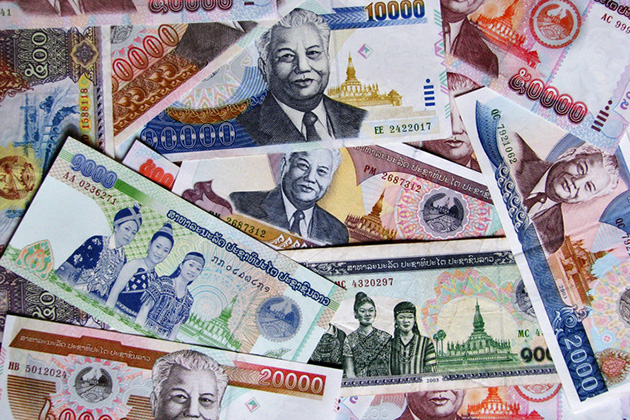 About the exchange rates, changing USD and Thai Baht into Kip does not bear any problem. Sightseers can easily exchange US dollars and Thai Baht in almost places to pay for shopping items and services. In April 2017, each THB is changed to 239 kips. For US dollars, the exchange rate is around 8000.
The currency and rate of exchange in Vietnam
In Vietnam, the Dong is officially used nationwide. Having been released in metal coins under numerous dynasties, the first dong in note was put into use in 1946 in diverse low denominations of 5 cents, 1 dong, 5 dong, 10 dong, 20 dong, 30 dong, 50 dong and 100 dong. In recent years, Vietnam stopped publishing small denominations of the Vietnam dong due to their inconvenience. Simultaneously, the Vietnamese government released the new Dong from 10.000-dong, 20.000-dong, 50.000-dong, 100.000-dong, 200.000- dong and 500.000-dong monetary value made by polymers. Despite the requirement of higher price to pay for production, this type of money benefits people because it is waterproof, high-durable and suitable to the money processing machines such as ATMS, ATMs, cash counters.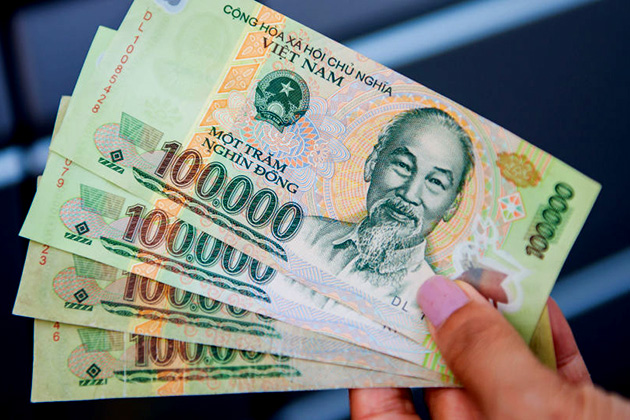 Like the exchanging in other countries of the Indochinese Peninsula, VND is often changed to by the US dollar. To get the detailed and exact rate of exchange, take a look at the table below.
USD
VND
coinmill.com
0.50
11,400
1.00
22,600
2.00
45,400
5.00
113,200
10.00
226,600
20.00
453,200
50.00
1,133,000
100.00
2,265,800
200.00
4,531,600
500.00
11,329,000
1000.00
22,658,200
2000.00
45,316,200
5000.00
113,290,600
10,000.00
226,581,200
20,000.00
453,162,600
50,000.00
1,132,906,400
100,000.00
2,265,812,600

25th, April, 2017

VND
USD
coinmill.com
20,000
0.88
50,000
2.21
100,000
4.41
200,000
8.83
500,000
22.07
1,000,000
44.13
2,000,000
88.27
5,000,000
220.67
10,000,000
441.34
20,000,000
882.69
50,000,000
2206.71
100,000,000
4413.43
200,000,000
8826.86
500,000,000
22,067.14
1,000,000,000
44,134.28
2,000,000,000
88,268.55
5,000,000,000
220,671.38

21th, April, 2017