When you come to Indochina for a vacation, prepare to embark on multiple means of transportation to travel around during your trip, cyclo is one of those most unique among the means of transportation used during your Indochina tour. Cyclo tours are very popular in many places around Vietnam, including the capital city of Hanoi and the imperial city of Hue. It is a common means of transportation for visitors who wish to travel to in-style and do some leisurely sight-seeing. During your cyclo tours, you get to see the hidden charm of the cities and its people in a unique way.
The comfort of a cyclo tour
A cyclo tour taking you around the city and famous attractions cost less than 10 dollars and the deal is too attractive for visitors to miss out on. Sitting on a cyclo painted green or purple, visitors will get an unobstructed view of the city and watch as people continue on with their daily life. The low speed as well as the height of the cyclo guarantees that nothing along the way will be missed. The clicking sounds of the pedals and the overall peaceful atmosphere of the city will also make a perfect combination as you listen to your drivers talking about the history of the city and what it has to offer.
There is an abundance of cyclos in Hue and they are available in almost all attractions of this peaceful imperial city such as along the Huong River, Truong Tien Bridge, and Dong Ba Market. However, try to go for the registered cyclos if you want better service and avoid potential problems. Registered cyclos are not hard to find at all as there are around 5,000 of them scattered across the city.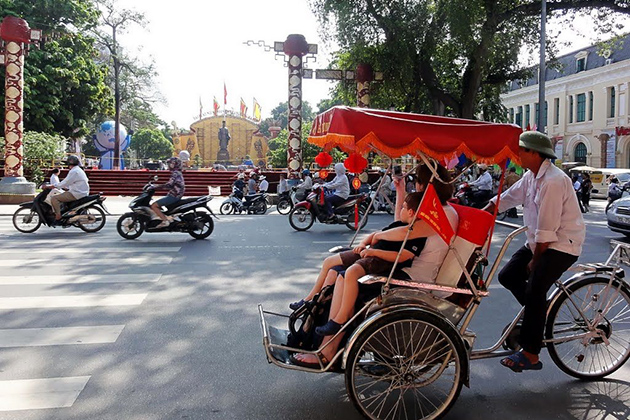 Cyclo – a part of Vietnamese culture
Cyclo is part of the Vietnamese culture. Looking back to the time when the living conditions in Vietnam were much more difficult, cyclos were the most common means of transportation for ordinary people who couldn't afford to have their own vehicles. However, as modernization hit, people start to travel by motorbikes and taxis more often, and cyclos are thought to become a thing of the past. However, these cyclo rickshaws are still used in modern life for people who want to go sight-seeing around the city without breaking a sweat. Cyclos are also used in some weddings that follow the retro style or photoshoots. All in all, although cyclos are not as popular in daily life as they were in the past, they still hold a special place in Vietnamese culture and make a perfect means of transportation to go sight-seeing in Hanoi or Hue.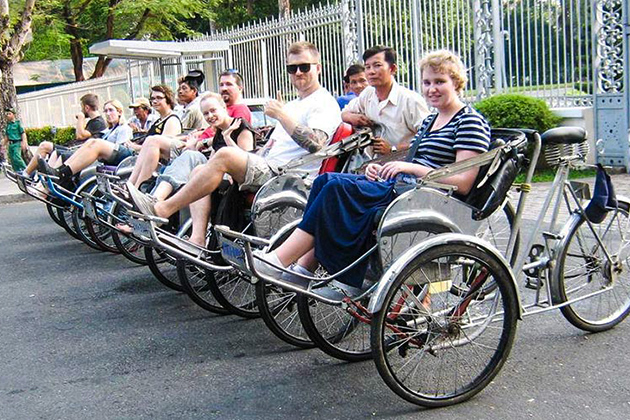 During your cyclo tour, feel free to stop by any place that you want to take photos or get a taste of delicious local cuisine as your cyclo drivers wait politely nearby, ready to take you on your way to see other famous attractions. The reason why traveling by cyclo is famous among tourists is the feeling and experience you get when choosing this traditional means of transportation. A standard cyclo shouldn't be so high or else passengers will be bothered by strong breezes. It shouldn't be too low either because then passengers cannot take in the sights of the city. Cyclo tours are seasonal because people tend to use cyclos in the dry season when the weather is more favorable and avoid the rainy season. For more information on the best time to visit Indochina, you can visit this article https://www.indochina.tours/best-time-visit-indochina/
It's very interesting to socialize with cyclo drivers too because they are like a walking dictionary when it comes to the imperial city of Hue. They can tell you all kinds of stories about the history of the city as well as the present day. They can also share great travel tips so that you know what to do, where to visit, and what to eat in the city.