Compared to other structures in Hue, Imperial Tomb of Khai Dinh Hue is relatively small, but the time to complete this work is longest, up to 11 years and lost a lot of muscle and money most. This is the resting place of the 12th emperor of Nguyen Dynasty – Khai Dinh (1885 -1925). It can be said that the work reflects the lavish personality, prodigality of King Khai Dinh.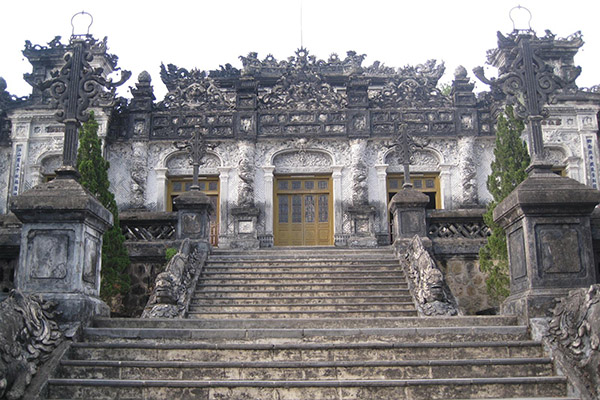 Imperial Tomb of Khai Dinh is a remarkable relic in the ancient capital Hue. It is located on Chau Chu Mountain, to the southwest of the Imperial City of Hue, in Thuy Bang Commune, Huong Thuy, Hue. This is the eternal sleeping place of Khai Dinh – the 12th king of Nguyen Dynasty in the feudal history of Vietnam.
Reigning for some time, King Khai Dinh thought of building his tomb. After asking for advises of many feng sui masters, Khai Dinh chose Chau Chu Mountain as the location.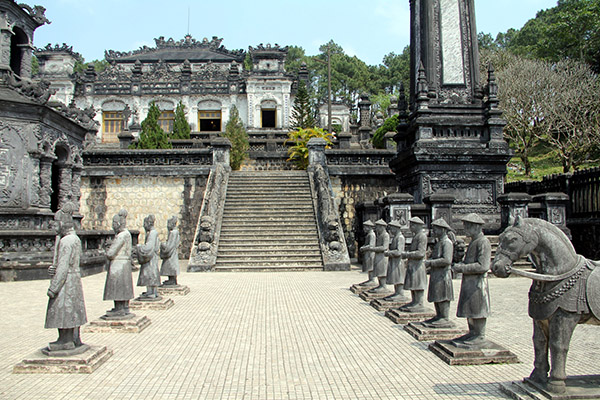 The tomb was started to build on September 4th, 1920 and lost 11 years to complete. The structure gathered a huge number of famous and well-qualified craft workers and artisans in the country at that time.
To have funding to build the tomb, King Khai Dinh raised the land tax to 30% and took that money to construct the tomb. This action was condemned harshly.
Besides, King Khai Dinh even sent some people to France for purchasing iron, steel, cement, tile… to China, Japan to buy porcelain, stained glass … to construct the structure.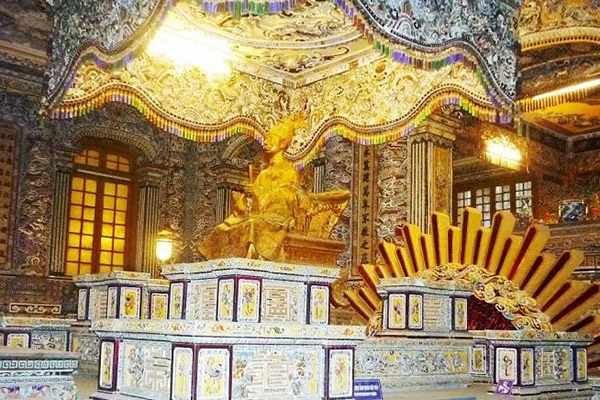 The architecture of Imperial Tomb of Khai Dinh does not follow any specific style, it is the mixture of architectures from Hinduism, Buddhism, Gothique, Roman… Perhaps that is reason why Inperial Tomb of Khai Dinh is unique, strange and different from other traditional architectures of Vietnam.
The main structure is Thien Dinh Palace. It is situated in the highest position including 5 elements: two rooms for soldiers; the in front is Khai Thanh Hall where the altar and portrait of Khai Dinh are placed; the center is the copper statue of the king and the tomb; the innermost is king's plaque.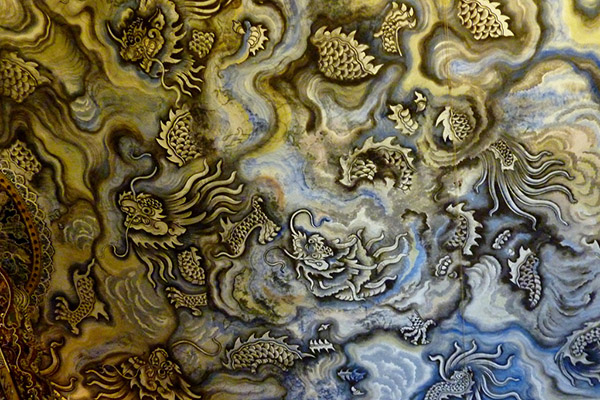 The entire interior in Thien Dinh Palace is decorated with reliefs made of porcelain and glass. The hard materials with "gold" hands of the artisans have become lively and extremely brilliant artworks.