Vietnam is famous for not only spectacular beaches but also picturesque islands. With over 3000 – plus kilometer coastline, Vietnam own numerous spectacular islets that are considered as the attractive islands. The following are top six beautiful islands recognized by the local and the prestigious news agencies.
1. Con Dao Beach
Being an island in a distant location from the mainland, Con Dao nowadays inspires veterans by a painful history and Con Dao attracts tourists by breath-taking scene. In other words, this place used to brutally imprison and torture lots of soldiers in the Vietnam war. This faraway island is covered with white soft sand and transparent water, exotic palm trees and tropical plants.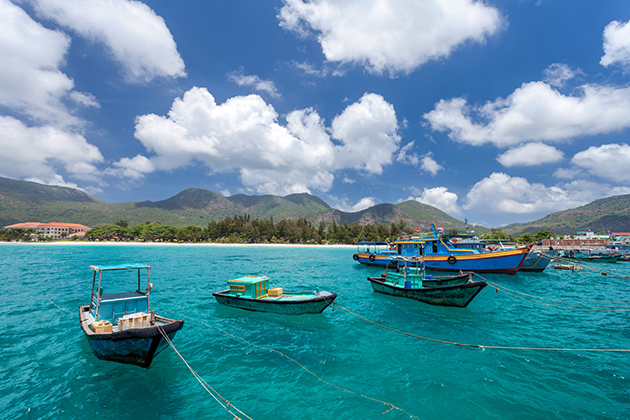 2. Phu Quoc Beach
Phu Quoc is a tourism paradise in Vietnam with the five-star hotels, airports, professional tourist services and recreational centers. Travelers choose Phu Quoc island for favorable weather, charming scene, long endless sand and a rich vegetation. Tourists are able to explore the traditional fishing village, enjoy fresh local seafood like sea cucumber, herring, Ham Ninh crab. Thanks to those seafood ingredients, some mouth-watering dishes. Tuna soup cake, sea urchins cocktail, grilled herring with lemon, herring rolls, boiled crab with lemon-pepper-salt sauce, crab bologna, grilled scallops, barely grilled grouper are just some typical examples.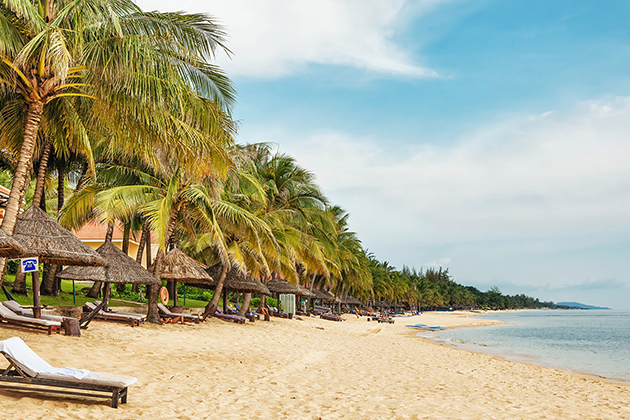 3. Ly Son Beach
Speaking to Ly Son, a majority of Vietnamese dream of visiting this island once. Like other picturesque islands in Vietnam, Ly Son is blessed with immense fields of jade surface water, special rocks and green grass in the pan-shaped valley. There are five wonderful mountains scattered in Ly Son, and they all are evidence of volcanic eruptions. Moreover, Ly Son island is a cultural land, a living place of many groups of people in the past. Especially, Ly Son is named as a kingdom of garlic because the island is distinguished for its expansive garlic fields and garlic cloves with special taste.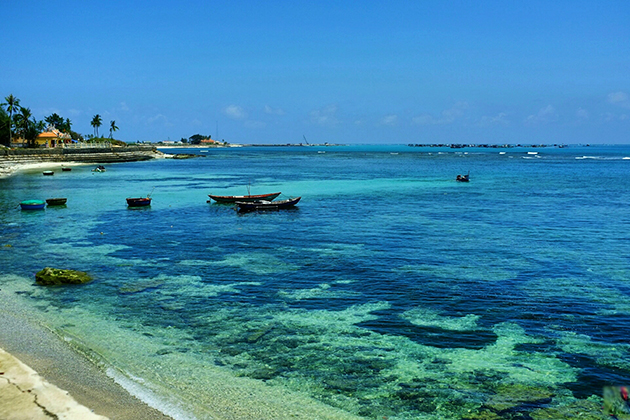 4. Co To Beach
If you are going to visit Halong Bay, one of the world natural heritage recognized by UNESCO, spend your time in Co To island because these two landscapes are located in Quang Ninh province. This beautiful beach has a wonderful shore with white sands and blue, crystal-like water. Co To island always impresses you whether day or night, sunrise or sunset, under the moonlight or in the morning mist. Poetic beauty and rustic villagers in Co To inspire Vietnamese famous writers and their works were brought to literature textbooks for pupils to help learners feel and love pure Vietnam beauty.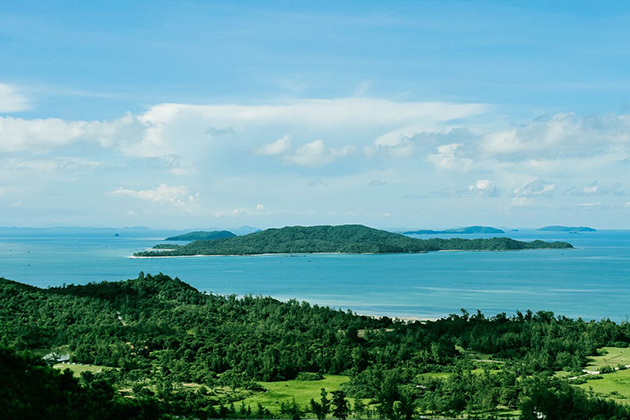 5. Phu Quy Beach
Phu Quy is one of few pristine islands in Binh Thuan province in particular and of Vietnam in general. Coming to Phu Quy is a real experience, not a visit. You can accompany with villagers to step into fishing boats, see them dive to catch lobsters and sharks and catch sight of the white fluffs of froth on top of the overflowing waves. Phu Quy island will be an ideal place for exploring by motorbike. It just cost you 100 – 120,000 VND a day to visit entire Phu Quy scenery. What a distinctive journey!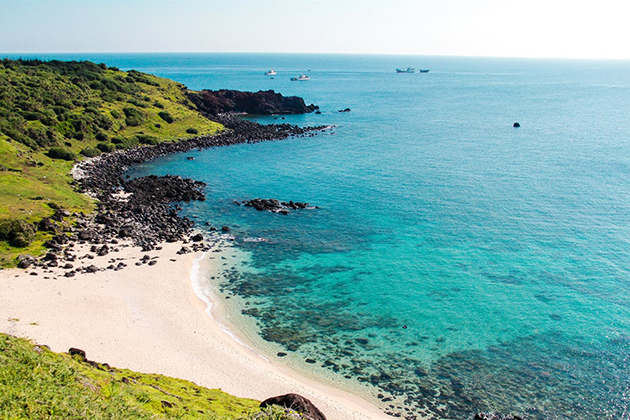 6. Binh Ba Beach
Also known as "lobster island", Binh Ba is a pristine moderate-sized island located in central Vietnam. There are just about 700 households inhabit this beautiful island, so the atmosphere is quite peaceful. Yet, infrastructure is quite convenient with spacious houses, public works and concrete roads. Tourists are easy to grill or process each seafood by themselves because types of seafood are plentiful and disposable. The friendliness and hospitality of the locals are one of the factors that make sightseers come back Binh Ba the next time.
Imagine that you, your friends, your pets play on these above attractive islands. You all jump into the water, play together, splashing water all around you and sit by the campfire. It is not extravagant to say that you will be the trouble-free worlds if you arrive in these islands.