Indochina is blessed with an unworldly beauty that can be captured through the lens if you decide to embark your Indochina tours with a camera. There are plenty of precious photo opportunities during the trip if you know exactly where to point your camera at. For those of you that carry a photography passion and want to capture the exotic beauty of nature and people, Indochina is the ideal place to visit!
Vietnam
Halong Bay
Halong Bay is a must-include destination in any Vietnam tours and also an amazing World Heritage Site. It covers an area of 1,969 square kilometers with over 2 thousand rock formations scattered across the calm water. There are several ways to visit Halong in style. You can choose to enjoy the comfort of a luxury cruise or join some activities like kayaking to some hidden caves to gain a better understanding of nature and people here. You can also hike up the mountains for a panoramic view of the magnificent bay and capture amazing photos of this World Natural Heritage Site.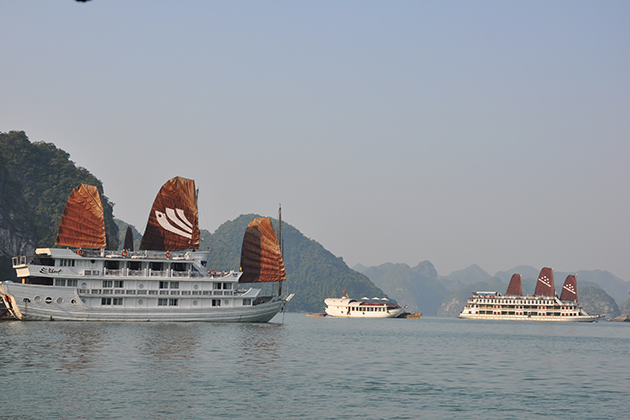 Sapa
Located in the northwest of Vietnam, Sapa is a frontier town and also a must-visit destination if you want some great photos of Indochina highlands. It still remains unknown who was the first to inhabit the town, but they left behind hundreds of petroglyphs, which are believed to be around the 15th century and represent local cadasters, around the entire valley. Nowadays, the town is the home of highland minorities such as Hmong and Yao, Giay, Pho Lu, and Tay.
Muong Hoa Valley offers a splendid view of Sapa in the early morning with mist-wrapped hills and refreshing green terraced rice fields. The grilled food is also delicious and left you wishing for more. On the other hand, Mount Fansipan, another photogenic attraction of Sapa, offers an entirely different feel. Fansipan is the peak of Indochina, so get ready to feel tiny in front of its overwhelming natural scenery.
Old Quarter of Hanoi
Hanoi is the capital city of Vietnam and also the center of Vietnamese culture and politics. The city is very crowded and busy at all time. However, in some parts of the city, you can still enjoy the calming atmosphere and the nostalgic feelings that the city inflicts upon its visitors. The Old Quarter is a place like that. Present since the imperial time and houses many of Hanoi's major attractions, the Old Quarter offers tourists a glimpse into the past of Vietnam and a lot of photo opportunities as well.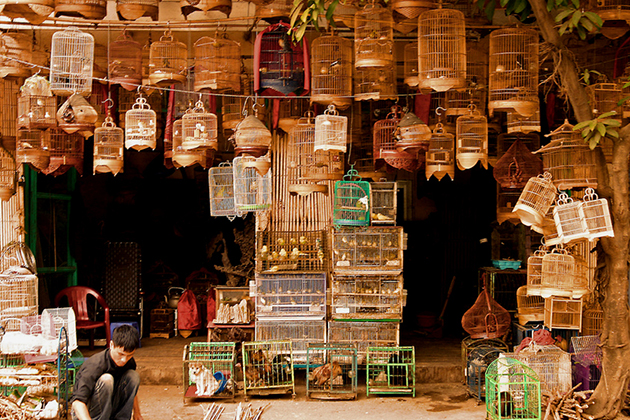 Ninh Binh
Ninh Binh City is a tourist hot spot with attractions that appear to be untouched and breathtakingly beautiful such as Hoa Lu, Cuc Phuong, Tam Coc – Bich Dong, and Bai Dinh Pagoda.
Ha Giang
Located in the Northeast region of Vietnam, Ha Giang is an ideal place to get away from the crowd and enjoy the Southeast Asian highland scenery.
Nha Trang
Nha Trang is a famous place among beach enthusiasts as this poetic city houses the best beaches in the country and offers a variety of beach-related activities. Nha Trang Bay is among the world's most beautiful bays and a perfect place to take beautiful pictures of sandy beaches and the glistening sea.
Mui Ne – Phan Thiet
Located in Southeastern Vietnam, Mui Ne is a coastal town in Binh Thuan Province and close to the city of Phan Thiet. The potential for tourism of Mui Ne was recognized pretty early, and this beautiful town had been transformed into a resort destination since 1995. Up until today, Mui Ne has many resorts lining up the coast as well as restaurants, bars and cafes.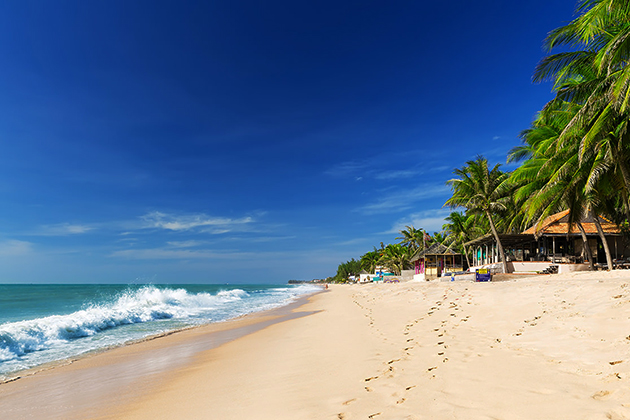 Bai Bang Beach
Located in Phu Yen Province in south-central Vietnam, the beaches of Bai Bang is an extraordinary natural landscape of Hoa Tam commune. The sandy beach of Bai Bang stretches over 3 kilometers from Mui Lon cape to Bai Goc mountain. The isolated and photogenic beauty of Bai Bang beach is made up of its long stretches of white sand and the mesmerizing turquoise water.
Mekong Delta
The Mekong Delta in Vietnam, also known as "Nine Dragon river delta", encompasses a large portion of southwestern Vietnam and can be filled with water depending on the season. Visitors coming to the Mekong Delta are often overwhelmed by the abundance of wildlife and the bustling local activity here.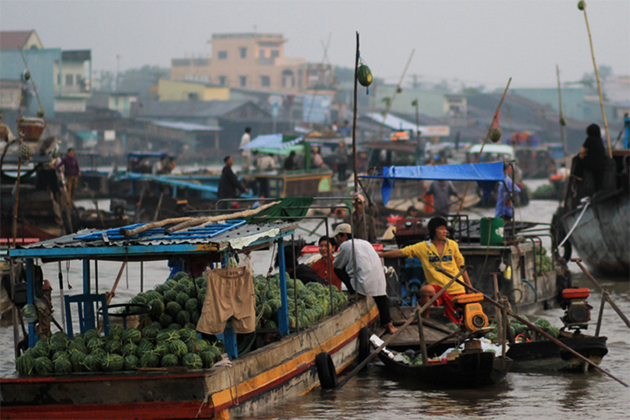 Laos
Luang Prabang
Once arrived in Luang Prabang, remember to take a scenic boat trip to experience the peaceful and picturesque beauty of the Mekong River and have interesting photography tours. You can also capture unique pictures of gold lacquered Buddha statues in many sizes and shapes if you take a short trek to Pak Ou Caves. As the sun starts to set behind Phu Si Mountain and reaches the hillside, you can head back to Luang Prabang to chase the most extraordinary moments of the day and admire the splendid view of the surroundings from a riverside restaurant.
Luang Prabang is the dreamland for those wanting to take photos of long-standing and unique architecture. If you want to take a look at traditional Lao architecture and arts, it is highly recommended to pay a visit to Wat Xiengthong, the Fine Art School, the National Museum and Former King's place. Have the slow film in your camera record the quiet street life as you stroll around the tranquil lanes to reach the hill-tribe handicraft market, where you can try the popular street foods is by no means a bad idea.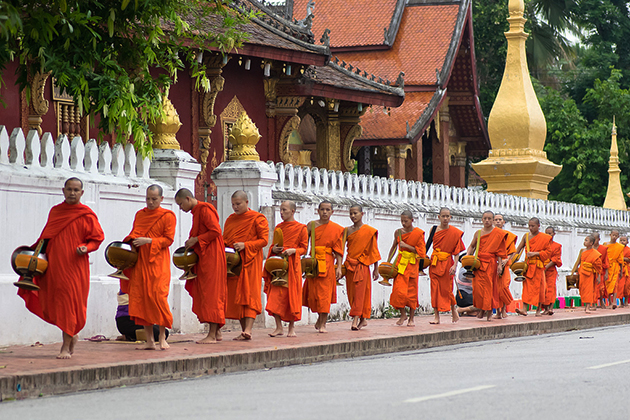 Kuang Si Waterfalls
Your photo collection of Lao nature won't be perfect without some beautiful pictures taken at the spectacular Kuang Si Waterfall. The Kuang Si Waterfalls have steps of small falls resembling terraced fields overlooking Mekong River. The turquoise green water cascades down a limestone formation creating shallow pools atop a steep hillside for visitors to cool off under the shade of nearby jungle. Sometimes the captivating blue color of the water is changed by the plants surrounding it, creating a magnificent sight to capture through your camera lens.
Xieng Khouang
If you are interested in photographing the rural life of Lao people, Phonsavan Town in Xieng Khouang province is an ideal place. The daily moments can be captured at any time: when you make a stop at Phou Khoun for lunch or when you visit the small villages of Khmu village and Ban Kiu Kam Pone.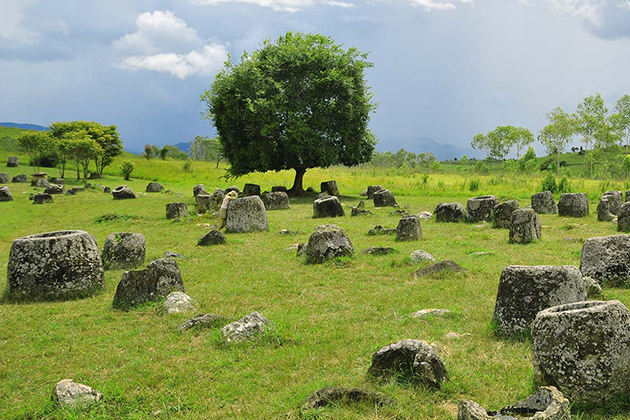 Cambodia
Temples of Siem Riep
Angkor Wat
The Angkor Wat is the symbol of Cambodia and the largest religious complex in the world. It is one of the must-visit during the Indochina trip, also, one of the most respectable pieces of architecture that managed to remain almost untouched ever since the 12th century. Ending a trip to Cambodia without a photo of the Angkor Wat will certainly leave some regrets in hindsight, so remember to bring your camera to this iconic complex.
One of the best spots to capture the temple in all its splendors is in front of the "mirror pond" that sits in front of the temple itself. There are two ponds in front of Angkor Wat, but only the one on the left manages to reflect the image of the magnificent temple. The sunrise over Angkor Wat is also an iconic photo theme. However, you have to wake up very early in the morning to battle the crowd and find a perfect spot for your precious photos.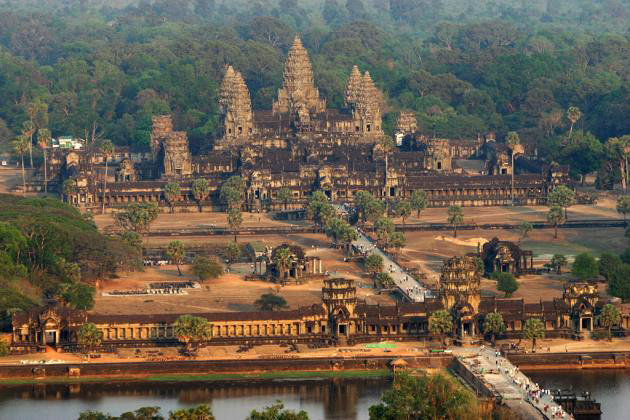 Bayon Temple
While the Angkor Wat is the largest and the most well-preserved temple in the Angkor area, when it comes to beauty, the temple of Bayon seems to take the lead. The scale and composition of Bayon Temple exude grandness in every aspect but still have a sense of balance and harmony. Over 2000 faces are carved on high towers and walls with slightly curving lips, eyes partly open in a mysterious manner. This heart-stirring temple is famous for its signature large stone faces carved on high towers, a view that is no less symbolic than Angkor Wat – its famous sibling.
Ta Prohm Temple
Ta Prohm is an equal match for the popular "Tomb Raider" temple Ta Prohm with an overshadowing tree sitting on the structure and framing the gate with its roots. But this time, there are no horrible fences around the tree ruining your photos like in Ta Prohm.
Beng Mealea
Going 50km north from Siem Reap, you will find another breathtaking temple – the Beng Mealea. This is the last time in the area made accessible to visitors since just about a decade ago, the place was still full of landmines laid by the Khmer Rouge. But worry not, it has now been completely cleared out from any explosives. Being built later than the temples of Angkor, Beng Mealea showcases a very different architecture feat. The designs are simpler, yet really massive and focus on majestic stone structures. Being hidden in a jungle for years, the temple looks like it has been reclaimed by the jungle as green moss and tree roots cover the whole structure.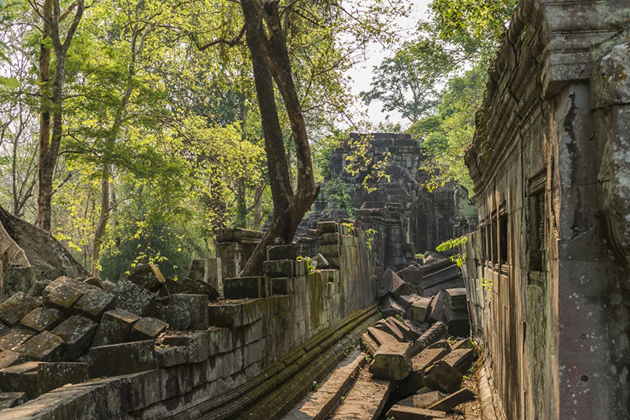 Phnom Penh
The Royal Palace
The capital city is much different from the land of the Khmer ruins with crazy traffic and not so clean appearance. However, there are still many places to visit and photo opportunities that can't be missed such as the Royal Palace. With an ancient and magnificent beauty, the Royal Palace in Phnom Penh is one of the most famous royal palaces in the world. Its signature golden roof stands out on the sky of Phnom Penh like a precious jewel within the city. The main entrance to the Royal Palace is on Sothearos Street. However, the whole palace is separated from the outside world by a wall filled with unique sculptures. The palace itself is elaborately decorated with exquisite patterns, colorful blooming flower gardens, and gold-covered buildings. Clean, beautifully adorned and full of gold, it definitely leaves a royal impression.
Temples of Phnom Penh
Most tourists associate temples and ruins with the city of Siem Riep so it can be surprising to learn that the capital city has a handful of good temples that should be included in your itinerary as well. They may not be as well-known and ancient as the temples of Angkor, but they can still offer some unique opportunities.
National Museum of Cambodia
The National Museum of Cambodia is a magnificent building located in the middle of Phnom Penh. It is not only a great place to gain an insight into the intricate history of Cambodia, but also a place to take some beautiful photos. This elegant terracotta structure also houses the world's finest collection of Khmer sculpture that is sure to impress any art lovers.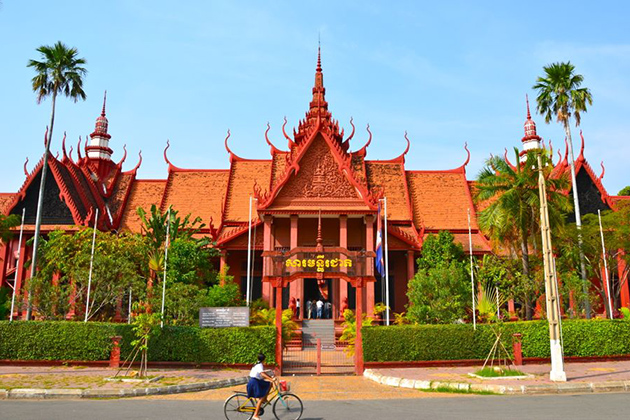 Le Moon Terrace Bar
This may come as a surprise, but Phnom Penh really offers some great sky bars too, especially Le Moon Terrace Bar. The owner really knows what he's doing when choosing a location. Situated on the rooftop of a building opposite both the Royal Palace and the Mekong River, Le Moon Terrace Bar offers views that are hard to match by any other in the city.
Mangroves, Kompong Phluk
Kompong Phluk village, about 40 km southeast of Siem Reap, hides a beautiful mangrove forest. In order to access it, you have to take part in one of the many organized tours to Kompong Phluk. You will be sitting in a small boat driven by a local woman, which will take you on an exciting trip in the woods. As a reward, you really get a pretty amazing visit to the floating village built on the wall and romantic sunsets on Cambodia's largest lake – Tonle Sap. What's more is to get these 3 great photo opportunities in one package.
Koh Rong and Koh Rong Samloem Beaches
Far in the south of the country, you will find two paradise islands still largely affected by mass tourism. Yes, Kor Rong and his younger siblings Sanloem have not won the reputation of the island in Thailand. But this keeps their delicate beaches from getting too many crowds and food stalls to spoil your photos and most of all your experiences. In addition to the fine white sand, they also offer dozens of different swing and hammocks to use as your photo essentials. That said, they are all full of some of the most Instagram Mable places in Cambodia.