If you get the chance to visit Cambodia and explore this charming Southeast Asian country, you will notice that it is one of the few countries that still embrace many of its traditional values in modern life, including the practice of wearing traditional dress and costume. Cambodian traditional costumes are harder to come across in urban areas like Phnom Penh and Siem Reap, but you can find people wearing it a lot in other rural areas around the country. When you decide to embark on an Indochina tour, it is important for you to know about their national costumes apart. Therefore, a closer look at Cambodian traditional costume and suggest some proper outfits for you to wear in Cambodia will be a useful guide for your travel.
Top 6 Cambodian Traditional Costumes & Clothes
Krama
Krama is a Cambodian traditional scarf made of cotton or silk. It has been around for thousands of years and hasn't changed much since then. You can come across people wearing krama around Cambodia, especially farmers who have to work in the paddy fields and in need of something to shield them from the burning heat of the sun or to keep their hair in place.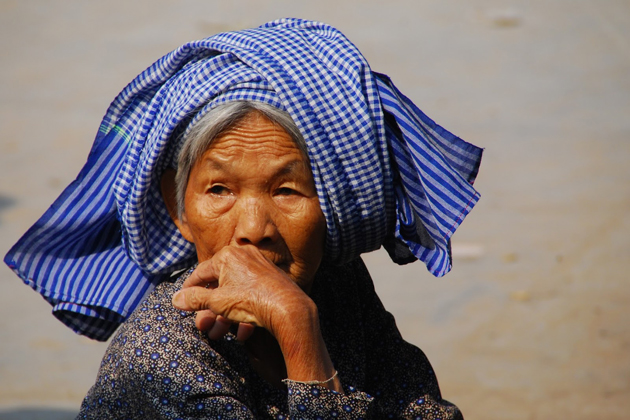 People wrap krama around their heads or necks and sometimes use this versatile scarf as pillow covers, hammocks for babies, and even tools to help people climb up trees. Krama is sold everywhere in Cambodia and it can make an interesting souvenir to bring home or use during your Cambodia travel.
Sarong
In Cambodia, Sarong is a traditional costume and used as an alternative to Sampot. It is a piece of clothing that is traditionally worn by both men and women in the lower class. Nowadays, Sarong is widely worn by people because of its simple design with one piece of cloth sewn at the two ends and tied on the waist.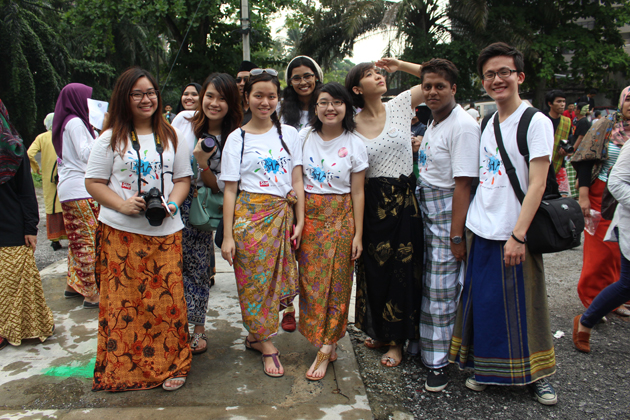 Sampot
Sampot is the national clothing of Cambodia that dates back to the Funan Era, making it a precious national heritage of the country. Sampot is a large cloth wrapped around the lower part of the body. It is usually made of silk and often dyed in basic colors like red, yellow, green, and black,… People can drape and fold it in many ways to bring out its distinct beauty. People often wear Sampot on festive occasions and they will decorate their Sampots with gemstones and embroidery details to make it look extra fancy and luxurious. However, the class polarization occurs strongly in Cambodia and it is shown in different variations of this traditional costume.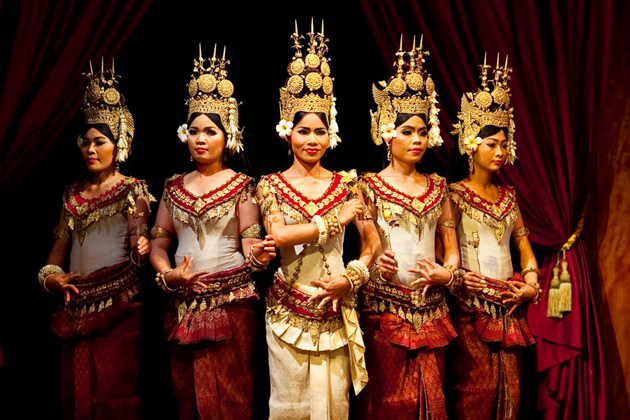 Sampot Phamuong – Cambodian Luxurious Dress
Sampot Phamuong is not only one type of Cambodian traditional dress but also the name of different kinds of traditional Khmer textiles. It is a luxurious dress in Cambodia that is twill woven and single colored. Sampot Phamuong has many variations such as chorcung, kaneiv, rabak, bantok, and anlounh. The one that is made up of yellow silk is the most valuable with excellent quality.
Sampot Chang Ben
Unlike other variations of Sampot which resemble a skirt, Chang Kben looks like a pair of pants and is longer than the others. Sampot Chang Kben is often 9 ft long, 3 ft wide, and is decorated with many patterns that signify the class of those that wear them. The materials used to make these Sampot are also high quality and extremely comfortable.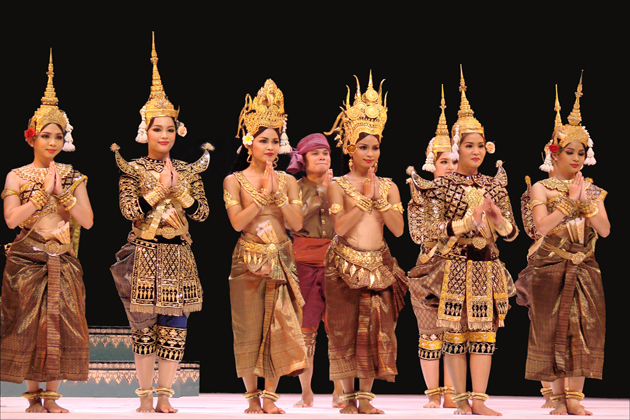 Sampot Chang Kben used to be worn by upper and middle-class women, but now anyone can wear them, especially in festive events and special occasions. This complicated traditional dress of Cambodia can be a challenge for tourists. You wrap it around the waist, cover along the body, and tie a knot between the legs and secure with a sparkling belt.
Sampot Hol – Cambodian Typical Traditional Dress
Luxurious traditional costumes like Sampot Chang Kben and Sampot Phamuong are harder to come across on your Cambodia tour, but you can easily spot people wearing Sampot Hol – a more common variation of a Sampot. The Sampot hol owns more than 200 patterns combined with three to five colors including red, yellow, blue. brown, and green. There are four variants, Sampot hol, Sampot hol por, Sampot hol kben, and Sampot holong. Patterns are usually geometric, animal, and floral motifs.
Recommended Cambodian Traditional Costume Tourists Should Wear
When visting Cambodia, you will visit a lot of temples and it's important that you choose a proper outfit to wear. Short and revealing clothes are not accepted at Cambodian religious sites. Devotees wear formal Cambodian clothes and take off their hats. To show your respect for their beliefs, remember to act like a true Cambodian devotee or at least copy what they do to make sure you do not make mistakes. To prepare for activities like sightseeing or traveling, you will need a pair of comfortable walking shoes and a hat to shield from the sun. In addition to the three popular types of Sampot, there are other less popular Sampot types, but still have their own distinctive features such as Sampot Tep Apsara, Sampot Chorabap, Sampot Samloy, Sampot Sampot, Sampot Alorgn.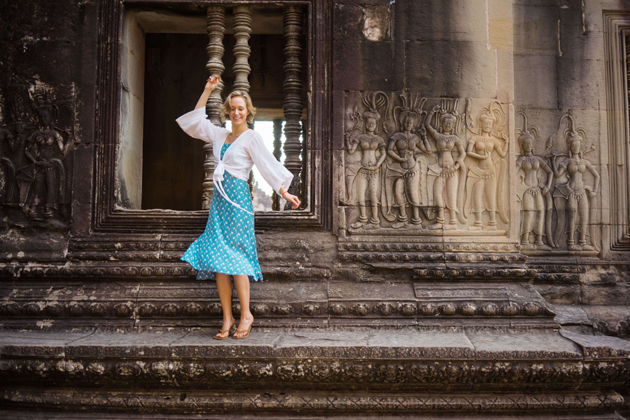 Sampot is a big part of Cambodian lifestyle. Even when the French brought Western costumes to Cambodia, people still continue to wear Sampot. The royal family and government officials use Sampot Chang Kben along with a formal coat. Today, Cambodian people still wear the Sampot Chan Kben and Sampot Phamuong on special occasions. Cambodian people from rural areas are more comfortable wearing Sampot than Western costumes. In any case, for all people living in Cambodia, Sampot is always considered a beautiful national dress.