Sapa is well-known for many unique markets bearing the beauty of the people here. Coc Ly Market in Sapa is a famous market for its characteristic and uniqueness. Tourists who want to learn about the pure cultural life of ethnic minorities should not ignore cultural this address.
Coc Ly Market is situated in Coc Ly Commune, Bac Ha District, Lao Cai Province. This is the ethnic market in the northwest of Bac Ha District. The market happens next to the suspension bridge across Chay River.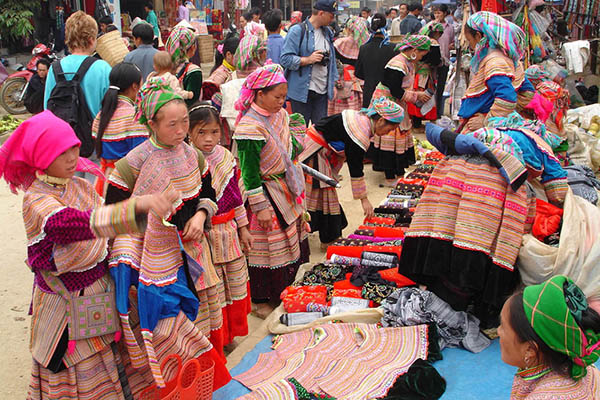 Coc Ly Market is opened every Tuesday. Despite not being a big market, Coc Ly Market is very important for ethnic groups in the west of Bac Ha. This is the place of meeting, exchanging of people of Hmong, Black Dao and Nung. Goods displaying at the market is the local produce and items brought from the plains to or imported from China. People come to the market not only to trade, but also to meet friends after 1 week apart.
Visiting Coc Ly Market, you will be tempted by traditional beauty reserved from ethnic minorities as H'Mong, Tay, Nung … Tourists will have the chance to witness ethnic costumes and listen to their voices. The ethnic girls Lily in colorful dresses are shy with the umbrella over head. They often gather at the end of the bridge to show off dresses and more important, to find lovers. This is the distinction of Coc Ly Market compared to other ethnic markets.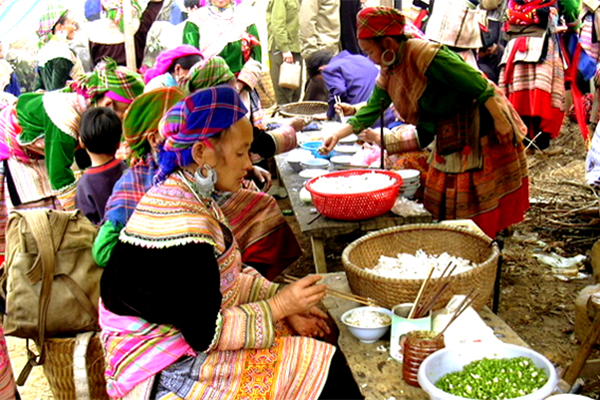 The market is divided into many areas. The items are diverse; from the produce bring the flavor of mountains such as vegetables, herbs, mushrooms, black mushrooms, honey, and corn wine, upland rice … to household appliances, jewelries, and colorful brocades with lively patterns.
The most crowded place is the area selling the kinds of cattle, poultry such as buffalo, cows, pigs, chickens, dogs, horses and cats … The atmosphere in the area is very noisy, busy buyers and sellers.
Perhaps the special area is the customer service for both boys and girls. Here, visitors can take photos with friends for memory or drop by the "dental clinic" to makeup a gold tooth for a more graceful mouth.
Similar to other famous markets in Sapa as Bac Ha Market and Can Cau Market, Coc Ly Market offers the specialties of the highland like Thang Co, Mem Men, Pho, Banh Duc Ngo…